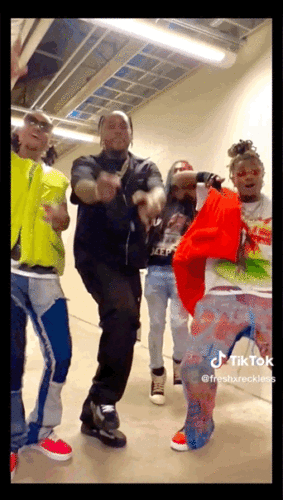 Snoop Dogg made a splash last month when he announced the Death Row catalog would be available on TikTok. Now, the crown jewel of that legendary label's catalog, Dr. Dre and Snoop Dogg's "Nuthin But A G'Thang," is having a major moment on TikTok. With over 111k video creations to date, the ultimate West Coast anthem delivers the perfect vibe whether creators are exploring the ocean looking for microscopic life, cooking mouth-watering queso tacos , spending 24 action-packed hours in Los Angeles, or getting ready for a Snoop Dogg concert. Meanwhile, Snoop Dogg has remained active on TikTok, showing off his makeshift sports bar setup and celebrating the re-release of the Death Row catalog to streaming services.
The TikTok community loves a good glow up trend and Kali Uchis' new psychedelic R&B bop "Moonlight" is the perfect song to soundtrack the newest one. While some of the 49.7K creations under the sound find creators revealing their new taste in glamor since they started listening to Kali's music, others find creators humorously manifesting a Kali-inspired makeover for themselves or showing off their artsy lava lamp aquarium nails. On her own account, Kali began teasing the song at the end of 2022 and, now, she uses the sound to banter with her fans about promoting her music.
New Orleans rap duo Fresh X Reckless has creators showing off their skills with their upbeat banger, "Blicky." Boasting 477.2K+ creations, the auto-tuned bop finds creators repurposing choreography by creator @amour.jordynn with a twist – instead of doing the full dance routine, creators stop abruptly and do their best impressions of Fresh X Reckless' signature pose. Creators show off their moves in the classroom, at the arcade, and at home with the assistance of their siblings. Best known for their playful performances, Fresh X Reckless also kept the trend going on their TikTok, sharing behind-the-scenes footage of the official music video, linking up with Fivio Foreign to jam out to "Blicky," and reacting to creators' videos using the duet feature. Thanks to a boost from the TikTok community, "Blicky" earned a top ten spot on Spotify's USA Viral 50 chart.
© 2023, Seth "Digital Crates" Barmash. All rights reserved.