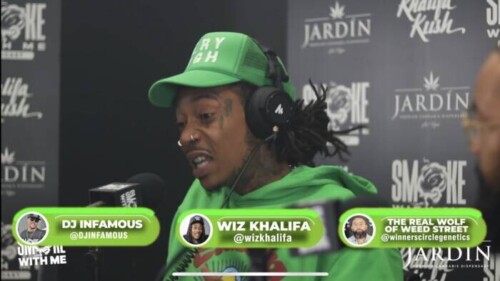 The cannabis industry has been growing rapidly in recent years, with many celebrities joining the fray. One of the most prominent figures in this space is Wiz Khalifa, a rapper and cannabis enthusiast who has been vocal about his love for the plant. In a recent episode of The Smoke With Me Podcast, Wiz sat down with DJ Infamous and The Wolf of Weed Street, CEO of Winners Circle Genetics, to share his thoughts on the latest news and trends in the industry.
The Smoke With Me Podcast: A Platform for Education and Advocacy
The Smoke With Me Podcast is a show that provides a platform for industry experts, entrepreneurs, and advocates to share their experiences and insights. Hosted by DJ Infamous and The Wolf of Weed Street, the show has featured many guests from the cannabis industry and beyond. Previous guests include Felix Murry and Kingston of Gashouse, Tammy, aka The Cannabis Cutie, Yung Marley, and Stevie Williams, among others. The show is now in its second season and has been a valuable resource for anyone interested in the cannabis industry.
The Wolf of Weed Street: Bridging the Gap for Breeders and Cultivators
Hassim Robinson, also known as The Wolf of Weed Street, is the CEO of Winners Circle Genetics, a Black-owned cannabis company that crafts new genetics and strains for consumption in legal states. Robinson's company has been featured in various publications, including Black Enterprise magazine, Hall of Flowers, TMZ, LA Weekly, High Times, and Black Cannabis Magazine, among others. Robinson is committed to giving people clean medicine and providing jobs in the cannabis industry. He aims to bridge the gap by providing a path for them to access capital, protect their intellectual property, and promote their brands. Through his company, Robinson is working to make the cannabis industry more inclusive and equitable.
DJ Infamous: A Renowned DJ and Influencer in the Cannabis Industry
DJ Infamous, also known as the "Youngest In Charge," has been Ludacris' official DJ for over 20 years. He is a renowned DJ and producer, as well as a brand ambassador and influencer for Las Vegas Jardin Cannabis Dispensary. Infamous is also the host of Atlanta's top-rated hip hop radio show, the Infamous Hour, on V-103, The People's Station. He has been instrumental in shaping the Atlanta hip hop scene and has worked with some of the biggest names in the industry.
Wiz Khalifa Shares Insights on the Cannabis Industry
During the interview, Wiz Khalifa shares his insights and experiences in the cannabis industry. Listeners will learn about Wiz's foresight in using tissue culture process to propagate his strain KK, which sets his brand apart from most celebrity cannabis brands. Wiz also talks about his strategy on business partnerships, choosing only those companies that are in line with his lifestyle. He shares his preference for OG and green strains, rather than candy-flavored ones. In addition to his music and cannabis ventures, Wiz has a non-profit organization that supports single fathers. Listeners will also be entertained by the Kush up challenge, where Wiz beats everyone on set. The interview is packed with interesting and informative content that is sure to be of interest to anyone curious about the cannabis industry or a fan of Wiz Khalifa.
© 2023, Logan. All rights reserved.