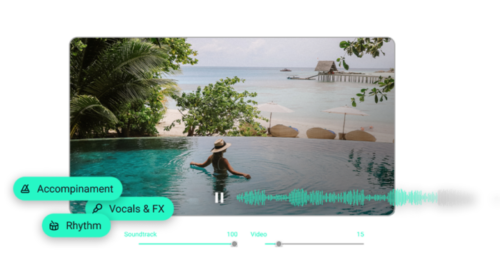 Groundbreaking music creation platform Loudly has launched its AI Music Generator, offering new opportunities for music lovers, artists, and content creators looking to generate compelling music or soundscapes. With its advanced technology and vast catalog of over 200K professionally produced audio samples, Loudly's platform is a lab where creatives can experiment with the convergence of musical genres and moods to instantly generate high-quality tracks.
At the core of Loudly's innovation is its AI Music Engine. Trained on its own extensive catalog of professional-grade samples and stems, Loudly's AI Music Engine is capable of generating over one billion musical variations across 12 genres. All sounds are created by expert music producers in high-grade studio environments to ensure that they fit seamlessly together in a generated composition.
"A good song requires more than just well-produced samples – the composition as a whole has to make sense and take us on a journey," explains Loudly CEO Rory Kenny. "Our talented team of music producers apply unique genre parameters like song structures, instrumentation, energy dynamics, and mixdown so that Loudly delivers playlist-ready compositions. In addition, through a combination of deep-learning and meticulous human tagging, our bank of 200K+ audio samples are converted into a music metadata universe, whereby our AI is able to intelligently select and compose music based on our unique song formula approach."
Thanks to Loudly's simple design and intuitive flow, users at all levels of musical and technical expertise can cook up one-of-a-kind compositions with just a few clicks. By building a unique song formula e.g. selecting instruments, duration, energy level, and genre, users can generate and explore a practically limitless array of personalized musical creations. Loudly even allows for genre-blending, so a filmmaker in need of an epic cinema score with a hint of EDM can create just that.
Achieving high-velocity growth ahead of its launch, Loudly is coming out of beta with a growing base of 50K registered users, plus an estimated one thousand new registered users per day.
"Our team of musicians, creatives, and techies at Loudly deeply believe in the magic of music creation and we're thrilled to finally share this with the world," says Loudly CEO Rory Kenny. "We're opening the door not only for artists and content creators to make their own soundtracks but for the public to think differently about music and try their hand at creating new compositions  themselves."
About Loudly
AI music platform Loudly empowers everyone to instantly generate, customize, and discover royalty-free music for use in digital projects to forge a deeper connection with their audiences. With a goal of sharing the magic of music creation with everyone, Loudly is continuously evolving its ground-breaking AI music technology.
© 2023, Seth "Digital Crates" Barmash. All rights reserved.