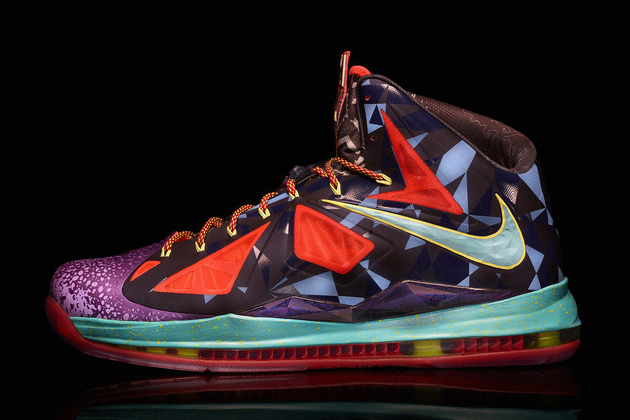 Before the Miami Heat and Chicago Bulls prepared to square off for game 1 of the eastern conference semi-finals NBA commissioner David Stern presented NBA MVP Lebron James with the MVP Trophy in front of James' South Beach home crowd and as Lebron received the award he was wearing a custom pair of his signature sneaker the Nike "Lebron X" the "Lebron X MVP". Check out the images and a insert from Nike.com below.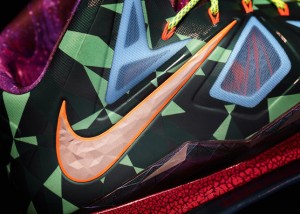 " Nike is celebrating LeBron James's fourth MVP award with a special edition LEBRON X MVP shoe and a new "Witness History" campaign. 
James becomes only the second player to win four MVP titles in five years, joining the select group of four-time MVPs in the award's 58-year history.
To mark the historic honor, James is wearing a special edition LEBRON X MVP shoe specifically designed by Nike Basketball to commemorate this achievement. 
The vibrant LEBRON X MVP shoe fuses the unique colorways and designs of each style in the LEBRON X series, which James debuted in August 2012. The design details, including MVP on the shoe tongue, weave the story of James's incredible journey over the past year. It's a path that has seen him striving for excellence by perfecting his shooting efficiency, assists and rebounds to cut through defense effectively as an individual and as a team. Along the way, James has traveled from the courts of London to the hardwood arena of Miami, achieving victory in an extraordinary 27-game winning streak.
With the release of the LEBRON X MVP shoe, Nike pays tribute to a player who has earned his place in basketball history through his unwavering dedication to the pursuit of greatness.
The LEBRON X MVP shoe will be available in limited quantities at select retailers in North America and China soon."
(Images via Nike.com)
© 2013, Eldorado2452. All rights reserved.