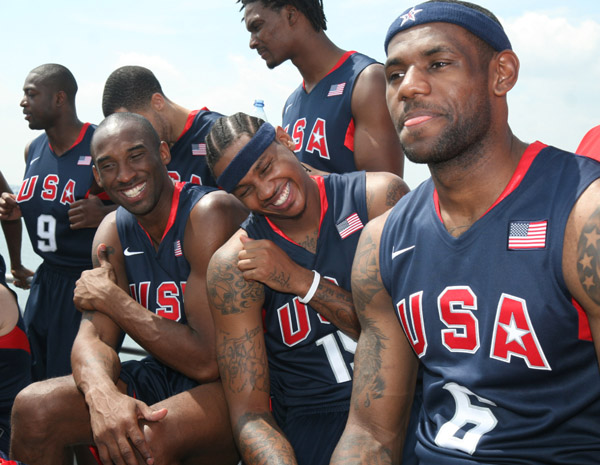 The Los Angeles Lakers, whose plan to re-sign center Dwight Howard did not pan out this offseason, are poised to rebuild fast by focusing on the two biggest free agents of 2014 — LeBron James and Carmelo Anthony, front-office sources have told ESPN.
Opinions are split on whether the Lakers can actually land James or Anthony, with one source calling it "realistic" and another saying it was "far-fetched at this point." Nonetheless, the Lakers have made it clear they are positioning themselves for a run at one and perhaps even two of the superstars who could become free agents in 2014 by refusing to commit to any contract past this next season, multiple sources have said.
Dwyane Wade, Amare Stoudemire and Chris Bosh also have early-termination options on the five-year deals they signed in the summer of 2010. Luol Deng, Danny Granger, Andrew Bogut and Dirk Nowitzki will be unrestricted free agents next summer.
James, of course, is the biggest prize. But unlike in 2009, when James' free-agency options the following summer were on his mind, sources have told ESPN that James isn't even considering his 2014 decision yet.
If Howard had re-signed with the Lakers, the team would have had room to make a run at only one player next summer and sign him to a maximum-level contract. Now that he's gone, the Lakers have only Steve Nash ($9.7 million) and Robert Sacre ($915,243) on the books for 2014-15, leaving them with enough space to make a run at two max-level players.
The new collective bargaining agreement would allow the Lakers to waive Nash in the final year of his contract and "stretch" that $9.7 million out over three years, meaning only $3.2 million would count against their 2014-15 salary cap. So even if Bryant extends his contract for another couple of seasons, at between $10-15 million per season, the Lakers still theoretically would have enough room to pursue two max-level players.
via ESPN.com
© 2013, Eldorado2452. All rights reserved.