Star Enterprises artist Clout releases the revamped version of his independent album Nouveau Riche entitled Nouveau Riche : Red Label. The project is headed by the lead single "Cream." Make sure you watch his official videos for "Cream" and "All Rich." You will notice that everything Clout does is unique not like others rappers. In Clout's words
Last fall I released a project that I thought was very good in Nouveau Riche over time after listening I decided my Vision for the project had changed so I took it down from the internet took away some songs & added some songs until I felt like I had the project that exactly represents where I'm currently at in my life …I wanted to make it more concise …more streamlined & overall more affective.This is the project that will represent the new era of the Clout brand & I will be relentless going forward I won't feel satisfied til myself & the people around me are all in a prominent position.This is for all of the people of any color,creed,and profession, that refuse to except mediocrity that refuse to except the conditioning of what this world tells us we need to settle into being ….let's all maximize our potential ….this is an album of a young man attempting to become the fully realized vision he has of himself & the different aspects of money influence arrogance ,excess & relationships and how they all play into that it's about new success new money new ideas ..this is Nouveau Riche Red Label….I won't stop til we all rich.
DOWNLOAD: Clout – Nouveau Riche: Red Label (Album)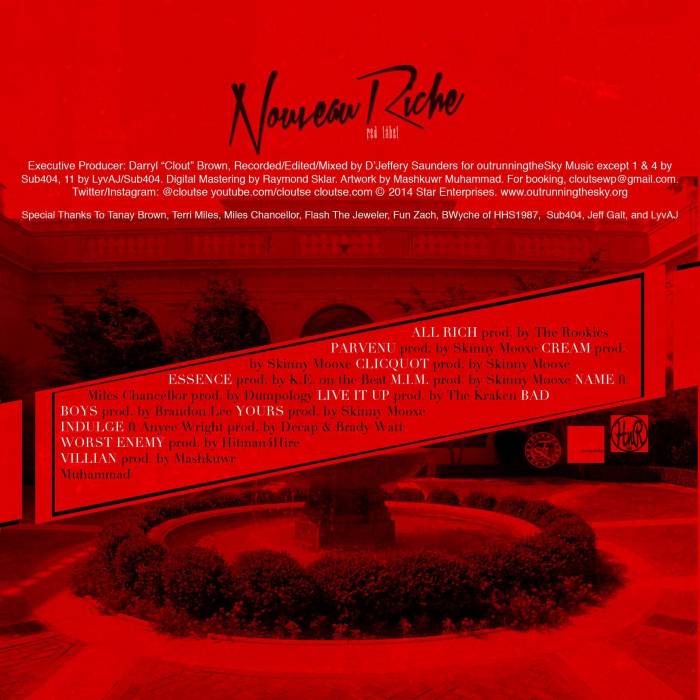 Artwork done by Mashkuwr Muhammad for OutRunTheSky Music Group.
© 2014, @BWyche. All rights reserved.