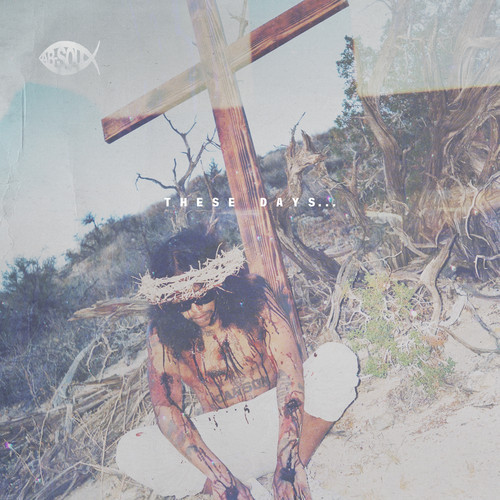 TDE/Black Hippy's own Ab-Soul has released the official tracklist to his long awaited LP, These Days. Dropping June 24th, the album comes with 15 tracks with features from TDE labelmates Kendrick Lamar, ScHoolboy Q, and SZA, along with others such as Rick Ross, Lupe Fiasco, Action Bronson, and Danny Brown. Production is handled by DJ Dahi, The Blended Babies, Larry Fisherman (Mac Miller), Terrace Martin, and more.
Down below is the official track list and the title track featuring The O'Mys.
1. God's Reign (Feat. SZA) (produced by Purity Ring)
2. Tree of Life (produced Curti$$ King and DJ Dahi)
3. Hunnid Stax (Feat. ScHoolboy Q) (produced by Kenny Beats)
4. Dub Sac (produced by Dave Free & Tommy Black)
5. World Runners (Feat. Lupe Fiasco & Nikki Jean) (produced by Tae Beast)
6. Nevermind That (Feat. Rick Ross) (produced by The Kathy)
7. TWACT (Feat. Jinx & Short Dawg) (produced by DNYC3)
8. Just Have Fun (produced by Like and Blended Babies)
9. Kendrick Lamar's Interlude" (Feat. Kendrick Lamar) (produced by Terrace Martin)
10. Closure (produced by Sounwave)
11. Sapiosexual (produced by J. Cole)
12. Stigmata (Feat. Action Bronson & Asaad) (produced by Rahki)
13. Feelin' Us (Feat. Jay Rock & RaVaughn) (produced by Skhye Hutch)
14. Ride Slow (Feat. Danny Brown & Delusional Thomas) (produced by Larry Fisherman)
15. W.R.O.H. (Feat. JMSN) (produced by Tae Beast)
© 2014, miixtapechiick. All rights reserved.