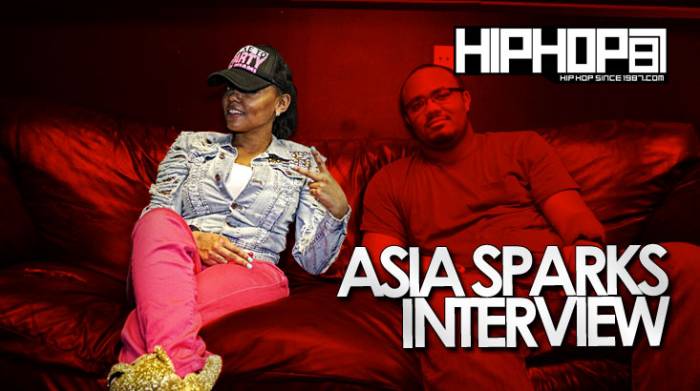 If you don't believe that dreams come true, that hard work and dedication pays off, and that preparation mixed with opportunity is even better than luck, you've never met Asia Sparks. She exploded onto the scene in 2012 with an army of supporters behind her, major music industry cosigns in her favor, and an incomparable sense of self and sound. Behind the dope bars and lovely exterior is an artist that is still growing, getting better, and perhaps, most importantly, just enjoying the ride.
In part one of HHS1987's exclusive, Sparks sat down with our very own B. Wyche to discuss her immediate impact on both the local and national level, learning from and working with legendary record executive Kevin Liles, her debut mixtape, Spark Up, Vol. 1, musical influences, the BET Hip-Hop Award cypher and much more.
For Sparks it all started with the response to her video for "Sparkle Girl Cypher".
"I got love from Meek [Mill], Fat Joe, 50 Cent, Trina; I met Jay Z, everybody. Honestly there's not one person in the industry that has not either heard about me or hasn't connected the face. And it was all because of the 'Sparkle Girl Cypher', it was because of the Sparkle Girls. I couldn't have done it without them," she conceded, "because we made a movement. If I come out here alone, I'm just like everybody else […] what made me so different was that I had people believing in me in my first video. And they [saw] the belief."
The buzz she received from taking over the 'net garnered the attention of Kevin Liles, an esteemed record industry veteran with an eye for talent. Liles, who now manages Sparks, has been giving the young artist great advice since day one.
"What he said to me, which made me have to go with him, […] he said, 'It's about being the best woman, the best daughter […] and then best artist'," she said of Liles' advice. "He said to me, and I've never told this to anybody, he said to me 'If you decided that you wanted to teach, I have educational programs, but you can do this without me. You will make it without me, but I want to be a part of what you're doing.' And that was the realest thing I've heard because it's easy to tell somebody what you're gonna do for them […] it's hard to be humble and say listen […] 'I ain't gonna tell you what I can do for you, Ima tell you what you can do for me.'"
Another defining moment in Sparks' young career was her participation in the 2013 BET Hip-Hop Awards new artists cypher. The moment is a milestone that has helped to make her even more of a household name.
"Honestly, you never know how good you're doing til you get there and you realize how much respect they're giving you," she said of the moment. "And it's all because I spit, not because of the way I look […] I was shaking when my cypher came on, [but] it was a beautiful thing. It was so surreal. I didn't really feel it until I got back, to be honest."
Sparks also spoke on her Sparkle Girls crew, her musical influences, and adding singing to her musical arsenal.
Watch the interview below, be sure to check back for part two, and be on the lookout for more exclusive content that you can only find here on HipHopSince1987.com.
Watch Asia Spark's 30 For 30 freestyle below:
© 2014, @BWyche. All rights reserved.