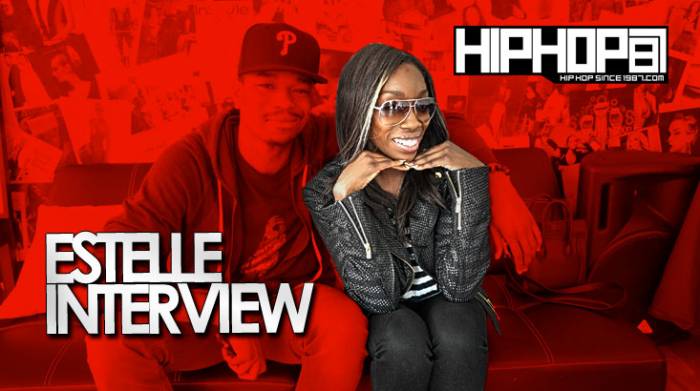 It takes a lot to break into the U.S. pop culture consciousness. Fans in The States can be notoriously hard to win over and even harder to keep when it comes to new acts, especially acts from across the pond. One artist that has been able to continually impress in her home country and abroad is Grammy award-winning, British singer, songwriter and emcee Estelle. While promoting her upcoming album 'True Romance', Estelle sat down with HHS1987's E-Money to talk her new single, "Make Her Say (Beat It Up)", her #NoMakeUp #NoFilter Instagram campaign, her new album, True Romance, and much more.
The cover art and visuals for her single "Make Her Say (Beat It Up)" have gotten a lot of attention for their racy nature, and Estelle attributes that to wanting an honest and open portrayal of love, sex and relationships.
"I wanted to put something out that people feel, people react to and that is art," she said of the single's cover art. "When you see those legs up, you're like, […] 'Wait, what's she trying to say?' it makes you ask questions. But with the video, I wanted it to speak more to ownership and I wanted it to speak more to just being yourself. Real human beings doing what human beings are supposed to be doing: being themselves in their most primal space and just being cool with it."
Being happy with one's natural beauty is the video's dominant theme, and to further emphasize this concept, Estelle teamed up with SheKnows.com for a #NoMakeUp #NoFilter Instagram campaign.
"There were so many women across the board, all races, sizes, shapes, colors, that posted their pictures; it made me feel like, 'Ok, so let's just keep going with that.' It's alright I post pictures of myself with no makeup all the time. I think I look better without it sometimes."
Estelle also touched on how being the head of her own label has brought her career full circle.
"I started off […] signed to myself. I didn't have a major distributor at that point. I looked at the model of Jay Z and Diddy and thought, 'I'm gonna do that'. I signed to two other labels subsequently but still had my own interests in each of the ones. The opportunity came back around for me to have it and to have it at a greater level, have it at a partnership level where I can [put] in more."
Estelle and E-Money chopped it up about the rise of EDM in the U.S., her voice-over work as the character Garnet on Cartoon Networks new show 'Steven Universe', and more.
Check out the interview below and be on the lookout for more exclusive content that you can only find here on HHS1987.
© 2014, Dessy Weegar. All rights reserved.