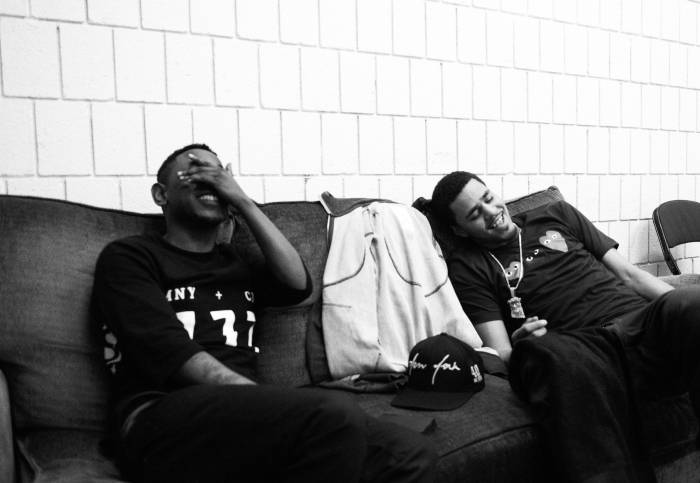 In his recent visit to NYC, Kendrick Lamar sat down with HipHopWired and it seems like a lot was discussed between the two parties. While the announcement of his new partnership with Reebok was at the center of discussion, K. Dot also managed to talk about his relationship with fellow artist & friend, J. Cole, his "2014 Forest Hills Drive" album and a future collaboration.
"That's my brother man. To see that he did exactly what he said what he was going to do – and me believing in what he was going to do – is just confirmation that good people will always be blessed. When you look at the game today, it's so contemporary."
As he continued, Kendrick went into the politics of the industry for a bit.
"These corporations and these labels, they'll grab these kids that have raw talent and take their one song, they don't care about developing them. Matter of fact, they don't give a f*ck about their raw talent."
Relating his statement back to J.Cole, he adds: "By Cole doing what he's doing, it puts the artist development back in the business, where the music speaks for itself." He then says, "I respect that dude, not only as an artist but as a person. He's a great person, he deserves everything he's getting."
It's interesting (and great) to see two, highly talked about artists, who were projected to both make an impact in Hip Hop way before they got on the scene, have such a bond. Two (good) Hip Hop artists don't always have to beef. In regards to a future collaboration, Kendrick makes it apparent that it's certainly possible now that both him and Cole got their "albums out of the way." They now have the space and time to make that "ideal project" come to fruition.
Also see Kendrick Lamar's XXL Magazine cover story here.
© 2014, MariaMyraine. All rights reserved.