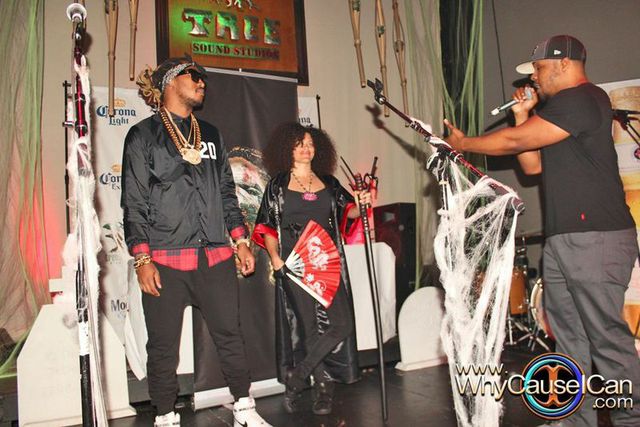 On October 28th at Tree Sound Studios was the Halloween Party to start all Halloween parties as Tree Sound's own Mali Hunter held a MONSTROUS Halloween party for Freebandz' Future "Monster" Mixtape release. Sponsored by Cholula Hot Sauce, Corona, D'usse and KIND Health Snacks, the world famous Tree Sound Studios became a house of horror as guest were greeted by vampire and zombie models with vampire teeth and mask for attendees, cob webs throughout the building and special frights hidden in the dark corners of the studio.
If their was someone you wanted to meet in the industry in Atlanta, Tree Sound was the place to be as 3 Little Digs made sure to capture footage of special attendees such as Sonny Digital, Rock City, Will A Fool, TM 88, Rae Sremmurd, Trinidad James, DJ Smallz and plenty more came through to support the Atlanta mogul at what he does best. For the the night, got to enjoy food catered personally by Mali herself which include her famous Mac and Cheese, Fried Chicken, salad and an assortments of pastas that that tasted amazing with the Garlic Chili Cholula hot sauce (personal thought), plus drinks that were their to help you "turn up", right before the food coma kicks in.
To top off the night and to launch off Future's Monster mixtape release, Future hit the stage to greet the crowd and to thank them for coming out all before going to the crowd and partying with his assassin Mali beside him.
Best Costumes of the Night (No Order):
1. Guy In The Electric Chair
2. Adam and Eve
3. Multiple Ghouls and Zombies
4. King Authur
5. Mali's Geisha Assassin
6. Lady Viking
7. The OBGYN
Photos all via WhyCauseIcan.com
© 2014, Eldorado2452. All rights reserved.