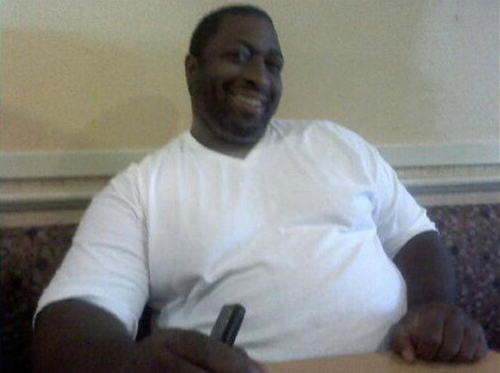 Eric Garner was placed in a fatal chokehold by the NYPD a few months ago. The whole incident, which occurred in Staten Island, was caught on video including an unarmed Eric pleading for officers to stop because he could not breathe. Shortly after the homicide, the NYPD Police Commissioner made a statement saying that chokeholds were against department policy. Today, just two weeks after a no indictment decision in the Michael Brown case, the same decision was made in reference to Officer Daniel Pantaleo's actions.
Although a federal investigation by the Department of Justice will commence into the case, protests began in New York City at around 5pm. Protestors, including J. Cole, marched the streets yelling, "no justice, no peace" as well as "we can't breathe." I was in Manhattan today and from what I saw, the protests were peaceful and will hopefully remain that way.
The hip-hop community took to their Twitter and Instagram accounts to voice their opinion on the case. More below.
So much for body cameras #EricGarner

— Big Boi (@BigBoi) December 3, 2014
I guess seeing ain't believing… Good luck w/those cop body cameras! That ain't gonna mean jack!

— QTip (@QtipTheAbstract) December 3, 2014
Word @chuckcreekmur now if the Feds don't pick this case up You know how you POTUS feels about our rights

— Killer Mike (@KillerMikeGTO) December 3, 2014
i am deeply disappointed in the non-indictment of the police officer who killed Eric Garner. The Dept. of Justice must step in now.

— Russell Simmons (@UncleRUSH) December 3, 2014
This Eric Garner Verdict is disheartening

— Smoke DZA (@smokedza) December 3, 2014
I'm ashamed. Mostly because I'm no longer shocked at things now-a-days. Nothing is shocking. #EricGarner

— Questlove Gomez (@questlove) December 3, 2014
this isn't who we are supposed to be. we fucked up.

— el-p (@therealelp) December 3, 2014
THE POLICE AND JUDICIAL SYSTEM ARE NOT MADE TO CATER TO YOUR YUNG BROKE BLACK ASS. EDUCATE YOURSELF AND GET WEALTHY, THIS IS NOTHING NEW.

— Banco Populair (@SirMichaelRocks) December 3, 2014
I'm on TV.. I play a TV cop.. And these fuckin cops are outta control NATIONALLY!

— ICE T (@FINALLEVEL) December 3, 2014
The system is like playing with Calvin & Hobbes. When they know they are losing, like a child they change the rules. #EricGarner RIP

— IG: TechImmortal (@ImmortalTech) December 3, 2014
Our thoughts and prayers for continued strength are with the family and friends of #EricGarner #itstime

— De La Soul (@WeAreDeLaSoul) December 3, 2014
© 2014, Julie Aly. All rights reserved.