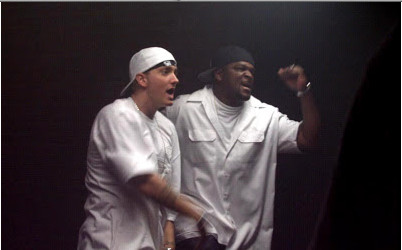 J. Cole's reference in his latest controversial track 'Fire Squad' has the rap game shook up right now:
History repeats itself and that's just how it goes
Same way that these rappers always bite each others flows
Same thing that my nigga Elvis did with Rock n Roll
Justin Timberlake, Eminem, and then Macklemore
This line in the record, adding a negative connotation to Eminem's name, has Trick-Trick opening up the conversation of banning Cole from coming to Detroit. This is what the Goon Sqwad rapper had to say about it:
He ain't poppin "Shit Shit" is he????? I will lock the gate on that nigga
He later said that Cole was asking for a "ass whipping" putting Slim Shady's name in that joint as well. Someone is butt-hurt right now. Like HOV said, it's only entertainment… right?
I'm more curious to hear what Eminem's take on the situation will be. We'll be waiting for that one..
© 2014, Niyah Nel. All rights reserved.