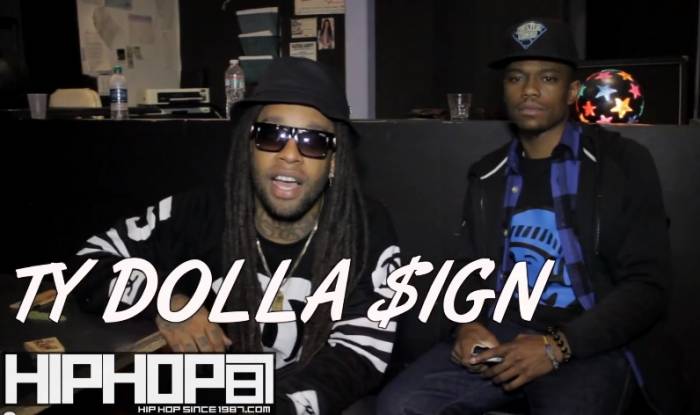 As a prominent part of the West Coast's recent resurgence, Los Angeles-based singer, songwriter and producer Ty Dolla Sign has played an important role in helping to shape the Westside's new sound. He divulged that the response of a hometown crowd to his earliest collaboration with frequent associate YG was the first stamp of approval.
"That was probably the third song we made," Dolla Sign said of YG's breakout hit "Toot It N Boot It". "It was a party downtown, a little Pushaz Ink party, [and] we performed that shit for the first time. It was out online for like a week, and I swear to God, after I sung the hook the first time, the second time it came around everybody just sung the hook with me so I knew we had something. And that was like the first time that ever happened in my life. Also, [that] was the first time I ever talked some crazy shit I would really say […] people liked that […] so I just continued to do my shit."
What started as a local LA movement has now become an international phenomenon placing a growing list of potential collaborators at Dolla Sign's disposal. He spoke on two particular artists from the Great White North that are sure to make a splash.
"[The] Weeknd already sent his part in," Dolla Sign said in regards to a remix for his hit single "Or Nah". "And I'm waiting on Drake's part. He told me he was gonna do it so I'm just waiting on him to send it. You already know Drake is gonna destroy the motherfucker so I'm just waiting."
Drake and The Weeknd aren't the only names in the rolodex. Ty$ is also preparing to unleash "Familiar", his collaboration with Travis Scott and Fredo Santana as his next single from the Beach House EP.
"I just happened to be nosy and look at the desktop of the studio computer and found a Young Chop [beats] folder," he said of how the song came together. "In the folder it said 'Yo Gotti' so it was all these beats, I guess, he was doing for Yo Gotti. I just happened to hop on one of them and I sent it to [Young Chop] and he said nobody did it so I put it out and it did well."
He also hinted at a remix featuring a certain duffle bag boy. "2 Chainz just sent me a verse," he stated, "so I'm gonna have a remix for that shit too."
After his Beach House EP has had its run, Ty$ plans to follow it up with his debut album, Free TC. The album's title is a dedication to his incarcerated younger brother. "TC is my little brother; he's in the pen right now for a murder. He didn't do it though […] so I'm gonna bring awareness to that […] Don't forget about niggas that's locked down cause that can happen to anybody. That's what the album is about."
Ty$ went on to dismiss the notion of "ratchet music" as a description for the carefree, party-fueled style of music he makes. "It's real nigga music and it's the shit and it's better than everybody else's shit and everybody's copying," he said. "It's pop music now […] I'm #3 on the charts."
Ty Dolla Sign also revealed advice he's gotten from Wiz Khalifa regarding putting on consistently good performances. "Wiz told me instead of saying 'Make some motherfucking noise [to the crowd],' just do some shit that'll make them make some noise."
Check out the interview and be on the lookout for more exclusive content you can only find on HHS1987.
This video was shot by HHS1987's B. Wyche.
Watch Ty Dolla $ign bring out Philly native, Asia Sparks below.
© 2014, Dessy Weegar. All rights reserved.