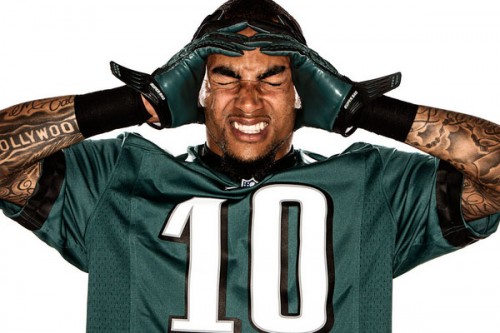 In what is one of the strangest stories of this 2014 NFL off-season, the Philadelphia Eagles have released wide receiver Desean Jackson. Rumors surfaced earlier in the year that the Eagles were looking to trade Desean Jackson and today the so called rumors became true.
Reports are mixed with some saying Jackson was released due to his poor work habits while reports have surfaced today of Desean Jackson possibly having gang relations.
Desean Jackson had this to say in a statement:
"First I would like to thank the Eagles organization, the Eagles fans and the city of Philadelphia for my time in Philly," the statement read. "I would also like to thank [former] coach Andy Reid for bringing me in.

"Secondly, I would like to address the misleading and unfounded reports that my release has anything to do with any affiliation that has been speculated surrounding the company I keep off of the field. I would like to make it very clear that I am not and never have been part of any gang. I am not a gang member, and to speculate and assume that I am involved in such activity off the field is reckless and irresponsible.

"I work very hard on and off the field and I am a good person with good values. I am proud of the accomplishments that I have made both on and off the field. I have worked tirelessly to give back to my community and have a positive impact on those in need. It is unfortunate that I now have to defend myself and my intentions. These reports are irresponsible and just not true. I look forward to working hard for my new team."
© 2014, Eldorado2452. All rights reserved.