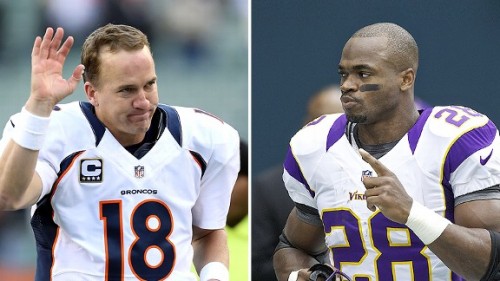 Coming off of what was a horrible loss in Super Bowl 48 to the now NFL champion Seattle Seahawks, John Elway and the Denver Broncos are left to wonder "what's next"? With the window closing on the Broncos superstar quarterback Peyton Manning's career, the Broncos are looking to make a few key changes to their team for the 2014 season and I know one player I believe the Broncos should seriously consider adding to their roster. Minnesota Vikings running back Adrian Peterson.
Now don't get me wrong, this would seem like a pairing made in fantasy football heaven but I honestly feel making a move like this may be Peyton's best shot to add another Super Bowl ring to his resume. Adrian Peterson is NOT a free agent so the only way the Broncos could get AP would be via trade which would be hard considering the Broncos don't have many pieces besides maybe defensive all-pro Von Miller to complete the trade . Peyton is heading into the 2014 season at the age of 38, the same age former Broncos QB John Elway was when he won his last Super Bowl, and the biggest difference in Elway's Broncos vs. Manning's Broncos is the running game. Elway's guy was Terrell Davis (an all-pro), Manning had Knowshon Moreno who is entering the off-season as a free agent, see where I'm going with this?
Despite passing for 55 touchdowns this season, Manning scored 8 points against the Seahawks defense. 8 points. Seattle realized despite Denver's (13-3) record, if you stop the Broncos passing game, you stop the Broncos offense. To make matters worst for Broncos nation who are hoping the Broncos will make another Super Bowl run next year, the AFC west will face the NFC west during the 2014 season. So in other words, Peyton will face the Chiefs defense twice as well as the 49ers, Rams, Cardinals and oh yes the Seahawks defense  next year. The road to the Super Bowl would be paved in yellow bricks.
Adrian Peterson is the ultimate professional so although he hasn't voiced a desire to leave Minnesota, I'm sure he would love the opportunity to compete for a Super Bowl title. The NFC north is a tough division and the Vikings don't appear to be going anywhere. I understand this is something many would only see on a season in Madden's franchise mode so I could be crazy or maybe John Elway should offer me a job in the Broncos front office. Peterson is signed with the Minnesota Vikings through the 2017 season and is schedule to make close to $12 million dollars in the 2014 season.
The NFL's free agency period begins on March 11, 2014.
© 2014, Eldorado2452. All rights reserved.