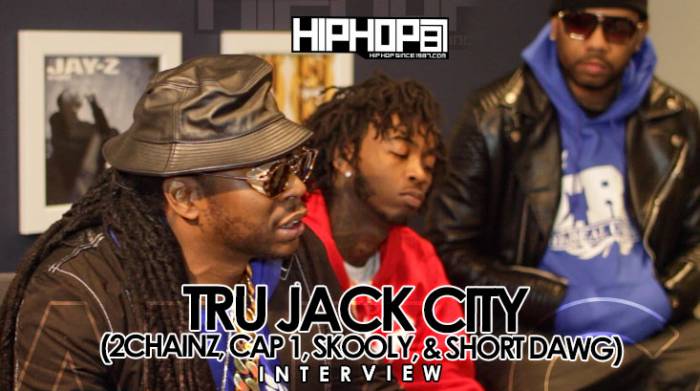 Recently, we sat down with 2 Chainz and his TRU army at his new headquarters Street Execs Studios to discuss his upcoming project , plans for 2015 and much more.
With his new project "Tru Jack City" set to drop on January 27th, we spoke with 2 Chainz about the project and why he felt it was important to drop the project now. As he mentioned in the interview, "Tru Jack City" is a collaboration project that will feature members of 2 Chainz' TRU family as well as a few other Atlanta artist. After having huge success from 2011-2013 dropping two albums and being featured on a ton of top 40 records, 2 Chainz explained why he didn't drop an album in 2014, how he has grown in the last year and just what he has in store for the 2015.
Now that 2 Chainz has studied enough of the game, the time is now to move forward and 2 Chainz has found the team he is looking to more into the future with. After revealing that he plans on dropping a new album this year, 2 Chainz explained why he decided to link with Cap 1, Skooly and Short Dawg and what they each artist brings to the table. Following 2 Chainz story on how his "Tru Jack City" crew was formed, we asked Cap 1, Skooly and Short Dawg to give our viewers a little history on their movements and who they are.
Before concluding the interview, 2 Chainz, Cap 1, Skooly and Short Dawg assured us that the upcoming "Tru Jack City" project will be one of the best to drop this year. When asked what we can expect from the project they all collectively said "Bars and a lot of swag, the real us".  Make sure you pick up 2 Chainz new "Tru Jack City" project on January 27th.
The Interview was conducted by HHS1987's Eldorado2452. The Interview was shot by HHS1987's Brian Da Director.
Follow On Twitter/ Instagram:
@2Chainz/ @Hairweavekiller
@RichieCap1/ @Caviardreamz_
@SB_Skooly
@ElvisFreshley
@Eldorado2452
@BrianDaDirector
© 2015, Eldorado2452. All rights reserved.