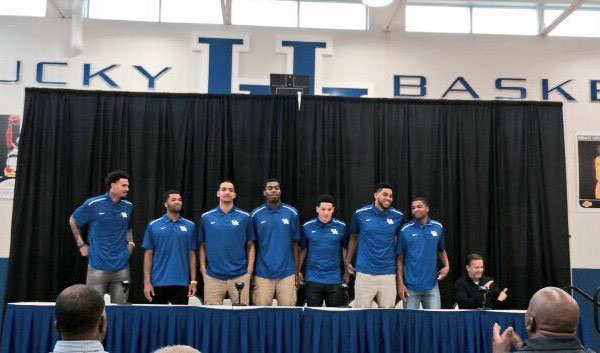 The Kentucky Wildcats put together an amazing run during the 2014-15 NCAA season and they nearly made history with a perfect undefeated season. Despite losing to Wisconsin in the 2015 NCAA Final Four, seven of the Kentucky Wildcats are taking their talents to the NBA.
According to ESPN,
The Kentucky Wildcats will lose their top seven scorers — Karl-Anthony Towns, Willie Cauley-Stein, Devin Booker, Trey Lyles, Dakari Johnson, Andrew Harrison and Aaron Harrison — to the NBA draft from the team that won 38 straight games before losing in the national semifinals.

Towns and Cauley-Stein are both considered lottery picks by NBA executives. Towns is likely to go either first or second overall, along with Duke freshman Jahlil Okafor — who also declared for the draft Thursday.

"This was a decision that had to be made, and now is the time to go," Cauley-Stein said.

Booker, a freshman shooting guard, is also considered a likely lottery pick after shooting 41 percent from beyond the arc this season.

Lyles, a skilled 6-foot-9 forward, averaged 8.7 points and 5.2 rebounds in 23 minutes per game. According to several NBA executives, Lyles will likely be chosen somewhere in the 15-25 range. The 6-11 Johnson is also leaving despite averaging just 6.4 points and 4.6 boards in 16.3 minutes per contest as a sophomore. Johnson, according to NBA guys, is projected as a fringe first-rounder.

Andrew and Aaron Harrison, who arrived at Kentucky as McDonald's All Americans and projected one-and-dones, have decided to leave after their sophomore campaigns. Aaron led the team in scoring at 11 points per game while Andrew averaged 9.3 points and led the team in assists. After consulting more than 10 NBA executives regarding their draft stock, the consensus was that the twins will both likely be selected somewhere in the second round.

"It was a tough decision for all of us, but we wanted to chase our dreams," Aaron Harrison said.

The NBA draft is June 25.
Stay tuned to HHS1987 for more updates and all your NBA news.
© 2015, Eldorado2452. All rights reserved.