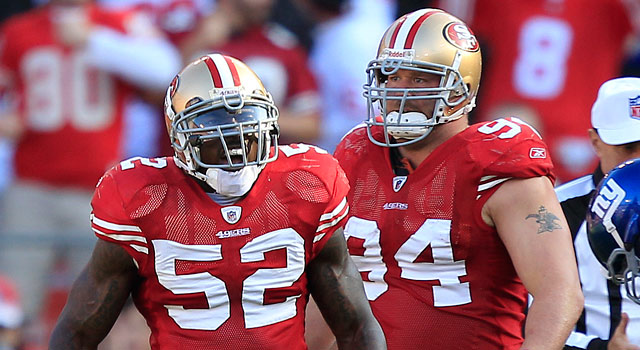 Things aren't looking good for the San Francisco 49ers. After parting ways with their now former head coach Jim Harbaugh, 49ers great, linebacker Patrick Wills has announced that he will retire from the NFL today and his teammate Justin Smith could be next.
According to NFL.com,
The 30-year-old linebacker is retiring after eight seasons with the San Francisco 49ers, the team announced Tuesday. Willis will hold a news conference at 3 p.m. ET.

A first-round pick in 2007, Willis made seven Pro Bowls and five first-team All-Pro units, highlighting one of the most dominant runs for an inside linebacker in the last decade.

From 2008 up until last season, there was no one better at the position which makes his impending announcement all the more shocking. And Willis isn't the only big name in San Francisco expected to hang them up.

NFL Media's Alex Flanagan reported back in December that Justin Smith has likely played his last game as a San Francisco 49er. The 14-year veteran and staple of the San Francisco front, however, told the Sacramento Bee that he plans to make his decision by next week. Smith would make sense because of his age. Willis is a far bigger shock. 

Willis' season ended early last year after he opted for surgery on a bothersome toe injury that had reportedly hampered him for a few seasons, though it was certainly not enough to force him out of the game. His explanation, expected Tuesday, will be interesting to hear.

The loss is a stunning blow for the 49ers, a team that is desperately trying to rebuild following the ouster of Jim Harbaugh. Smith would undoubtedly be the easier of the two to swallow given the fact that he'd turn 37 during the season this year. A retirement is almost expected now that the team is shifting gears and heading in another direction.
The 49ers are falling apart right in front of our faces and if you ask me it is directly related to the departure of Jim Harbaugh. The 49ers front office wanted Harbaugh gone and now they have to deal with the aftermath of that decision. NFL Free Agency begins at 4pm EST, stay tuned to HHS1987 for all your sports news.
© 2015, Eldorado2452. All rights reserved.