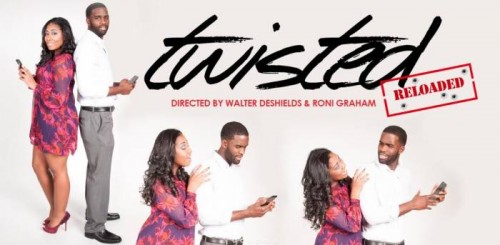 HHS1987 caught up with the cast of the upcoming play 'Twisted Reloaded.' The film was written by Brad Baker, and directed by Walter Deshields & Ronie Graham. The play features a star studded cast with a great ending. We sit down with the cast who introduces themselves, and their character in the play. The play stars some of the best talent in the Philadelphia area including comedian legend from Kevin Hart's Plastic Cup Boys Will "Spank" Horton, Philadelphia's own Bad Girl Catya "Ms.Cat" Washington, Roni Graham-Owens, Kevin Moore, Tiffany Barrett and many more.
Here is a brief synopsis of the play below.
Falling in love was easy for Mya and Denver, but as time goes by their relationship is tested and the two find themselves at a crossroad. Remaining committed to one woman becomes more than what Denver had bargained for. Irritated with the direction of their relationship, Mya's insecurities start to get the best of her. She reluctantly begins to realize that the man she loves may never change; ultimately forcing her to make a decision that may threaten to tear them apart.
While Denver finds himself torn between the man he once was and the man he wants to be, Mya begins to question his loyalty and seeks answers. As the drama ensues someone's ugly past comes back to haunt them, revealing a chilling secret that makes things even more Twisted.
The play will be on March 13-14th at 8pm at The Gershman Y located at 401 South Broad Street Philadelphia, Pa. For more information log on to BradBakerProductions.com.
This interview was conducted by HHS1987's E-Money.
Follow us on Instagram
@HipHopSince1987
@MrCook_
@MsCat215
@ComedianSpank
@IamKevinMoore
@RoniGraham
@missangel1908
@msmillz215
@imani42
@divagoddessgirl
@cortneelove
@actress_stephstar
@shae2butter
@ladydaira07
@slaprocdaking
@cobyjackk
@comedianskeetcarter
© 2015, @BWyche. All rights reserved.