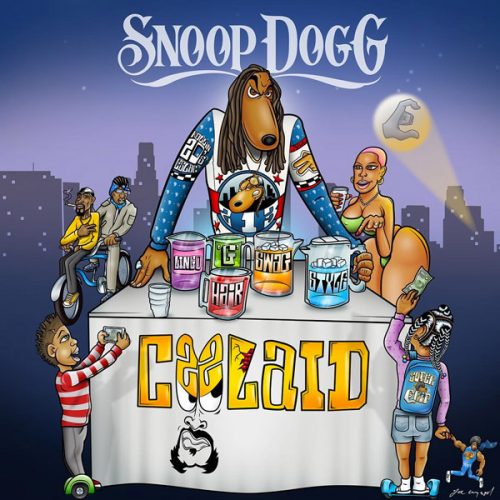 With the weather heating up, you can't go wrong with a cool glass of Cooled. And serving up an ice cold glass is none other than Snoop Dogg. The Hip Hop veteran has revealed the trackless for his "Coolaid" LP which includes features from Too $hort, Jeremiah, Swizz Beats E-40, Jazze Pha and more. Wiz Khalifa also makes two appearances on the project.
1. "Legend"
2. "Ten Toes Down"
3. "Don't Stop" (feat. Too Short)
4. "Super Crip"
5. "Coolaid Man"
6. "Let Me See Em Up" (feat. Swizz Beatz)
7. "Point Seen Money Gone" (feat. Jeremih)
8. "Oh Na Na" (feat. Wiz Khalifa)
9. "My Carz"
10. "Two Or More"
11. "Affiliated" (feat. Trick Trick)
12. "Feel About Snoop"
13. "Light It Up" (feat. Swizz Beatz)
14. "Side Piece"
15. "Kush Ups" (feat. Wiz Khalifa)
16. "Double Tap" (feat. E-40 & Jazze Pha)
17. "Got Those"
18. "Let the Beat Drop (Celebrate)" (feat. Swizz Beatz)
19. "What If" (feat. Suga Free)
20. "Revolution" (feat. October London)
© 2016, MariaMyraine. All rights reserved.