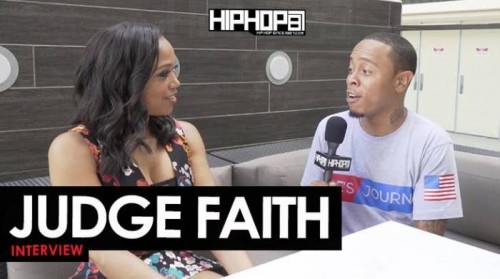 Recently, we had a chance to sit down with TV star, attorney, media personality and legal commentator Judge Faith here in Atlanta to speak on her career and more. Known today for her role on her daytime television series "Judge Faith", Judge Faith shared her story on her road to television and the legal world.
After starting her legal career in the New York City, Judge Faith spoke with us on her role as Assistant District Attorney at the Manhattan District Attorney's Office and her journey through the media world on television. Judge Faith has been featured on CNN, MSNBC, FOX and others reporting and speaking on the Trayvon Martin case and more.
As a native of Louisiana, Judge Faith took us down memory lane to her days as Miss Louisiana and competing in the Miss America contest in 2001. Entering season 3 of her popular show "Judge Faith", we spoke her Judge Faith on the new season and a few special guest that will be featured this season. She spoke on a few of her upcoming cases and informed us that rap star Yung Joc would be on the show soon with a very interesting case.
Before concluding the interview we spoke we Judge Faith on a few more serious topics. With America currently living in very tense racial times, we spoke with Judge Faith on Colin Kaepernick's recent stance, black lives matter and more.
The interview was conducted by HHS1987's Terrell Thomas (Eldorado). The interview was shot by Brian Da Director.
Follow On Twitter/Instagram:
@Faithjenkins1/ @judgefaith
@Eldorado2452
@HipHopSince1987
@BrianDaDirector
© 2016, Eldorado2452. All rights reserved.