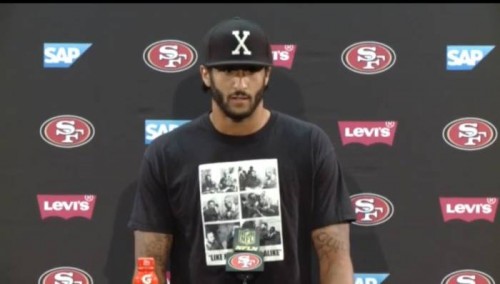 The 2016 NFL season is right around the corner but one of today's biggest stories has nothing to do with game play. Recently as the San Francisco 49ers faced the Green Bay Packers, Colin Kaepernick chose not to stand during the singing of America's National Anthem due to America's view against minorities here and a can of worm has since been opened. I for one respect the views of Kaepernick but many of his fellow NFL coaches and owners do not.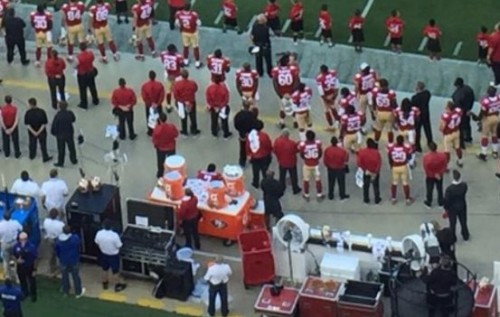 (Kaepernick is seen sitting between the orange Gatorade jugs)
According to NFL.com,
San Francisco 49ers quarterback Colin Kaepernick has willingly immersed himself into controversy by refusing to stand for the playing of the national anthem in protest of what he deems are wrongdoings against African Americans and minorities in the United States.

His latest refusal to stand for the anthem — he has done this in at least one other preseason game — came before the 49ers' preseason loss to Green Bay at Levi's Stadium on Friday night.

"I am not going to stand up to show pride in a flag for a country that oppresses black people and people of color," Kaepernick told NFL Media in an exclusive interview after the game. "To me, this is bigger than football and it would be selfish on my part to look the other way. There are bodies in the street and people getting paid leave and getting away with murder."

The 49ers issued a statement about Kaepernick's decision: "The national anthem is and always will be a special part of the pre-game ceremony. It is an opportunity to honor our country and reflect on the great liberties we are afforded as its citizens. In respecting such American principles as freedom of religion and freedom of expression, we recognize the right of an individual to choose and participate, or not, in our celebration of the national anthem."

Niners coach Chip Kelly told reporters Saturday that Kaepernick's decision not to stand during the national anthem is "his right as a citizen" and said "it's not my right to tell him not to do something."

The NFL also released a statement, obtained by NFL Media Insider Ian Rapoport: "Players are encouraged but not required to stand during the playing of the national anthem."

By taking a stand for civil rights, Kaepernick, 28, joins other athletes, like the NBA's Dwyane Wade, Chris Paul, LeBron James and Carmelo Anthony and several WNBA players in using their platform and status to raise awareness to issues affecting minorities in the U.S.
This could be a very interesting story as the season goes on. Kaepernick has stated that he is well aware of the backlash he many receive and that he is ready for it. What are your thoughts? Let me know at @eldorado2452. Stay tuned to HHS1987. Follow @eldorado2452 on Twitter and Instagram for all your sports news.
© 2016, Eldorado2452. All rights reserved.