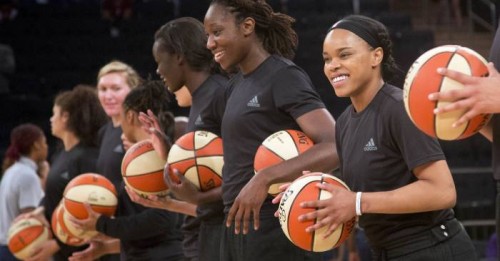 Over the years I have become a fan of the WNBA and what they stand for but in my opinion, they should be ashamed of themselves after their latest actions. After the recent killings of African-American men but police officers in Minnesota and in Baton Rouge, WNBA players on the New York Liberty, Minnesota Lynx, Phoenix Mercury and Indiana Fever spoke out by wearing t shirts using their platforms to speak out for injustices taking place in black communities by police officers and as a result, the WNBA has fined them.
The WNBA is fining $5k per team + $500 per player = $33k. Excessive. For using this platform to speak out! Says a lot!

— Skylar Diggins (@SkyDigg4) July 21, 2016
According to ESPN, 
The Indiana Fever, New York Liberty and Phoenix Mercury and their players were fined by the WNBA for wearing black warm-up shirts in the wake of recent shootings by and against police officers.

All three teams were fined $5,000 and each player was fined $500 as the shirts violated the league's uniform policy. While the shirts were the Adidas brand — the official outfitter of the league — WNBA rules state that uniforms may not be altered in any way.

"What's most upsetting is the way it was handled," Indiana Fever player rep Briann January said. "You have a league that is 90 — if not above 90 — percent African-American and you have an issue that is directly affecting them and the people they know and you have a league that isn't willing to side with them.

"It's not a race issue, not an anti-police issue, not a black or white issue. It's a right or wrong issue."

Anthony, among those trying to get athletes to take a more active role in social issues, agrees with January and her fellow players that the fines are misguided.

"I don't see no reason to fine them. If anything you should want to support them," Anthony said Thursday. "I don't know details, but don't see a reason to fine them.

"A bunch of teams did it and individuals did it. Everybody has their own freedom of speech. If they decide to use the platforms to do that, I don't see any reasons for anybody to get fined. We did it. The NBA did it two years ago. The NBA was very supportive. I don't see why it would be different this time."
Stay tuned to HHS1987. Follow @eldorado2452 on Twitter and Instagram for all your WNBA and sports news.
© 2016, Eldorado2452. All rights reserved.