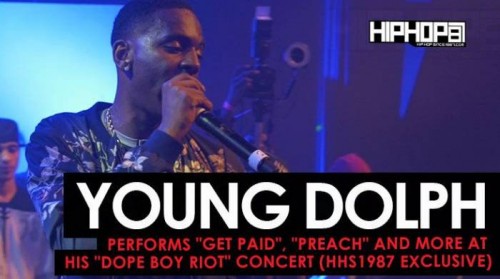 Paper Route Empire and the Street Execs bought one hell of an experience to the Music capitol of the South on Tuesday December 13th. Young Dolph's "Dope Boy Riot" concert took place at CenterStage in Atlanta Tuesday, and the "Rhyme Scene" was truly one of a kind. After transforming the stage to a prop of a trap house, Young Dolph and some of his friends hit the stage to perform some their musical hits. Young Dolph was joined by several of his rap peers including Cap-1, YFN Lucci, OJ Da Juiceman and Trouble to bring Atlanta trap/rap music lovers, the "Dope Boy Riot" concert.
During Young Dolph's "Dope Boy Riot" concert, Young Dolph hit the stage to perform his hits "Preach", "Get Paid", "Pull Up"and more. Young Dolph also bought out some of his Paper Route Empire artist to hit the stage as well.
Get an exclusive experience of Paper Route Empire's own Young Dolph's "Dope Boy Riot" Concert below. The vlog was covered and produced by Terrell Thomas (Eldorado). The vlog was shot and edited by Antoin Martin (Director AMartin).
Follow Us On Twitter/ Instagram:
@YoungDolph
@StreetExecs/ @theStreetExecs
@Eldorado2452
@HipHopSince1987
@Director_AMartin
© 2016, Eldorado2452. All rights reserved.