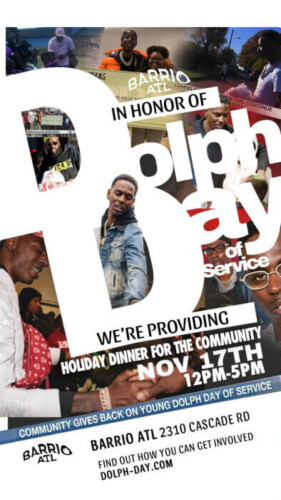 This Friday, November 17th, marks two years since the passing of Adolph Thornton Jr. A legendary rapper who rose from poverty to build his well-known record label Paper Route Empire, Young Dolph always made sure to provide for the streets, donating his time and his fortune to improving his community.
Now, November 17th is Dolph Day, officially designated the Adolph "Young Dolph" Thornton Jr. Day of Service in Tennessee and Georgia, and Dolph's own foundation, the IdaMae Family Foundation, and the record label he founded, Paper Route Empire, will honor Dolph's legacy by activating several public service events in cities across the country. The spirit of Dolph Day encourages anyone in any city to take a moment to perform an act of service for their community–no act is too small.
Many of the official Dolph-Day activations occur in the rapper's hometown of Memphis, Tennessee. PRE heavy-hitters Paper Route Woo and Snupe Bandz host and present a turkey giveaway at Christ Missionary Baptist Church in South Memphis. Finally, two Memphis businesses, CxffeeBlack and Sweet Magnolia Gelato, will offer special items on their menu, donating a portion of purchases to the IdaMae Foundation.
In Atlanta, the IdaMae Foundation partners with Barrio ATL, offering hygiene kits for area homeless and other disadvantaged community members from 12pm to 5pm. Later in the day, the Foundation hosts a Holiday Dinner at Atlanta Mission Shelter from 5 to 8pm.
In Chicago, Paper Route Empire's own Chitana hosts a Turkey giveaway in Chicago's South Side, at the Lionel Hampton Fine and Performing Arts School.
Everyone in any city is encouraged to post a photo doing an act of service on November 17th using the Hashtags #DolphDay & #DolphServiceDay. We all can make a positive impact for our own communities, neighbors and world. It can be as simple as helping out with tasks like helping the elderly carry their groceries to their front door, plant a local garden, or give free music lessons to kids.
Dolph Day continues in Memphis on Tuesday November 21st, as Paper Route Empire's own Jay Fizzle hosts a Turkey Giveaway at Westwood Community Center at 3pm. In addition, Memphis rapper Grove Hero and former Memphis Tigers basketball star Jeremy Hunt host a turkey drive of their own at Grove Hero Park, starting at 3pm.
Those who wish to continue Dolph's charitable work can donate or sign up to volunteer at Dolph-Day.com
IdaMae Family Foundation, Inc.'s mission is to address the needs of the community by offering programs and philanthropic activities that will enhance the quality of life by creating opportunities for lifelong learning, personal growth and development, and preservation of the community culture. The IdaMae Family Foundation, Inc. focuses its major giving, programs, and services to targeted areas in the surrounding communities of Castalia Heights in Memphis, Tennessee and communities in and around Auburn Gresham and Washington Heights in Chicago, Illinois.
Long Live Dolph.
Dolph Day Activations
11/17 Memphis
Christ Missionary Baptist Church/ St. James Church
Turkey giveaway
11am – 1pm
11/17 Chicago
Lionel Hampton Performing Arts School
Turkey Giveaway
12pm – until out of inventory
11/17 Atlanta
Barrio ATL
Giveaway of food and hygiene kits to homeless
12p-5p
11/21 Memphis
Westwood Community Center
Turkey giveaway
3pm, until none left
Grove Hero Park
Turkey giveaway
3pm, until none left
© 2023, Seth "Digital Crates" Barmash. All rights reserved.