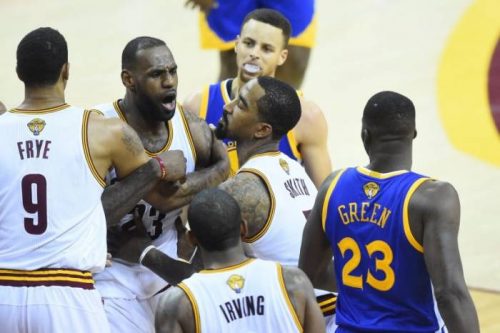 The 2016 NBA Finals made an interesting turn on Friday night late in the fourth quarter. During Game 4 of the 2016 NBA Finals Lebron James and Draymond were involved in a bit of foul play and it seems that the Cavs are hoping the NBA suspends Golden State Warriors forward Draymond Green for his role in the confrontation.
#Cavs pushing hard to see to it Draymond Green punished appropriately for swipe at LeBron James, I'm told. League pressured from both sides.

— Chris Haynes (@ChrisBHaynes) June 12, 2016
Despite in my opinion, LeBron James provoking the situation, the Cavs are hoping the league takes a good look at the play and suspends Draymond Green for Game 5. I say if the NBA does suspend Draymond Green, LeBron James should have to sit out too for provoking the matter. However if you ask me, I hope the NBA doesn't suspend either player.
Checkout the play from Game 4 below and let us know what you think should happen. Stay tuned to HHS1987 for more details. Follow @eldorado2452 on Instagram and Twitter for all your sports news. 
Things got heated between LeBron James & Draymond Green Friday. https://t.co/VPtb7UTAHM

— SportsCenter (@SportsCenter) June 11, 2016
© 2016, Eldorado2452. All rights reserved.