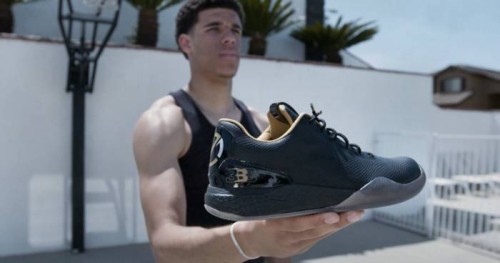 Former UCLA Bruins freshmen basketball star Lonzo Ball and his Dad Lavar Ball have both respectively made names for themselves in the sporting world and it appears the best is yet to come.
Hailing from Chino Hills, a suburb of the city of Angels, future Top 5 NBA first round pick Lonzo Ball is making history in the sneaker world and he doesn't even know what team/city he will call home next season after the 2017 NBA Draft. The Ball family has turned heads in the sports, fashion and entertainment culture with their family business "Big Baller Brand" athletic apparel and today they have one again set the internet on fire.
Big Baller's loose! If you can't afford the ZO2'S, you're NOT a BIG BALLER! 💰

— Lavar Ball (@Lavarbigballer) May 4, 2017
Hey @Lavarbigballer real big baller brands don't over charge kids for shoes. pic.twitter.com/N2U0VPXXyt

— SHAQ (@SHAQ) May 4, 2017
After looking for partnership with big sneaker companies such as Nike, Under Armour and Adidas and being declined, Lavar Ball and his son Lonzo Ball have debuted Big Baller Brand's first sneaker, Lonzo Ball's signature shoe the "ZO2 Prime". I know your wondering, well how is Ball making history with his sneaker? Easy, Lonzo Ball's first signature sneaker will retail for $495, more than Stephen Curry, Micheal Jordan, LeBron James and Kobe Bryant's each first signature shoe. So far the sneaker has received mixes reviews based on the look but many including NBA hall of famer Shaquille O' Neal aren't to pleased with the high retail price. Lavar Ball doesn't seem phased, he let the World knew on Thursday afternoon, "If you cant afford them, your not a Big Baller". Not only does Lonzo Ball have a new sneaker, he also has the " ZO2 Slide" which retail at $220.
The Sports World is Forever Changed. Introducing Lonzo's 1st Signature Shoe: The ZO2 Prime. pic.twitter.com/5JN1OLxlZS

— Big Baller Brand (@bigballerbrand) May 4, 2017
& Lastly, The ZO2 Slide. pic.twitter.com/gyzHscfA3w

— Big Baller Brand (@bigballerbrand) May 4, 2017
Checkout both the "ZO2 Slide" and "ZO2 Prime" above and let us know what you think of these new Big Baller Brand merchandise. Stay tuned to HHS1987 for more news. Follow @eldorado2452 on Twitter and Instagram for all your music, fashion and entertainment news.
© 2017, Eldorado2452. All rights reserved.