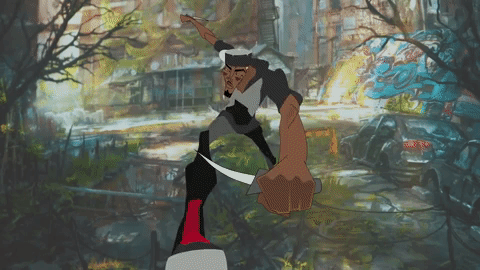 Hey, making it in the music industry is a long road to haul, filled with ups and downs, broken promises, and if you work hard, gratification. To help in giving the clueless pointers on said industry, Baltimore-based DJ Tony Drake is creating a 2D animated series titled, "The Indies." For the series pilot episode, viewers will get a slight glimpse into what they can expect from the Anime & Hip-Hop infused cartoon ahead of its television debut. Appropriately, the he focus is on A Tribe Called Quest's classic line about industry rule #4080….record company people are shady!!
Summary of The Indies:
Set in a futuristic dystopian society, The Indies follows an up and coming rapper named Slick. Born into a well-to-do family living on Earth's Moon, he longs for the opportunity to pursue his dream of becoming a famous recording artist. With a burning desire to make his dreams come true by any means necessary, Slick has a chance meeting with DJ Chops, one of Hip-Hop's biggest DJs and record executives. Slick is offered what seems to be an amazing recording contract, which Slick hastily signs without reading the fine print. Slick soon finds out that not only did he sign up to pursue his dream of being a famous artist, but he also signed up for something much more sinister. You see, what Slick failed to realize is that not only are record labels home to some of the universe's biggest music stars; they also serve as fronts for hitmen for hire services of nefarious crime lords. In order to free himself from his contract, Slick must now work with his new label mates to release his debut album while simultaneously executing dangerous hit jobs. Through these missions, the label mates will explore morality, loyalty, human nature, and discover who they really are at their core.
Watch the pilot episode of "The Indies" below, and look forward to viewing more soon.
© 2017, Oktane. All rights reserved.