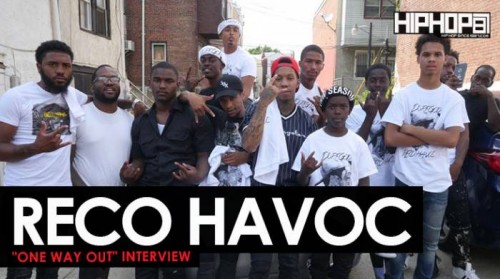 2017 has been a great year for the Philadelphia music scene. The known names in the city have been elevating their names and a new group of younger artists have emerged with a real following. This week HipHopSince1987's own Rick Dange linked up with one of the biggest up and coming rappers from Philly, Reco Havoc.
Rick Dange met up with Reco Havoc on his block in Southwest Philly for an exclusive interview about his debut mixtape "One Way Out". Reco Havoc broke down the project from features to production and spoke about his upcoming mixtape release party which will be on July 7th. Reco Havoc also got deep in the interview and spoke about what his life was like growing up, from losing his mom at the age of 14 to catching cases trying to survive in the Philly streets. Reco Havoc also talked about his journey as an artist, how he got his name, when he started rapping, and what separates him from other artists in the city. Reco Havoc spoke about his upcoming features with some big names in the industry such as PnB Rock and Don Q, but he also spoke about how important his team is and how they help him keep growing. This interview wouldn't be complete if we didn't have Reco Havoc also breakdown the meaning of his now famous term "Durf".
With labels already hitting up his phone, we're sure that Reco Havoc is one of the artists from Philly that will be around for awhile!
Checkout this exclusive interview NOW and make sure you checkout Reco Havoc's debut mixtape "One Way Out"!!
Follow Us on Instagram/Twitter at:
@RecoHavocAyo/@RecoHavoc
@HipHopSince1987
@RickDange
© 2017, RickDange. All rights reserved.