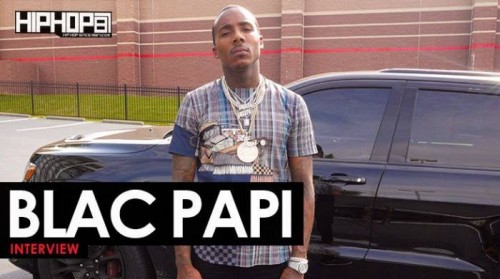 This year has proven to be a great year for the Philadelphia music scene, especially for the new up and coming artists. For an artist to make it out of Philly, you have to be working hard online but also in the streets. One up and coming artist that's been consistent with both is Blac Papi. From opening up for major artists, to hosting parties, Blac Papi has been making the rounds and creating a buzz for himself.
A few days ago, HipHopSince1987's own Rick Dange linked up with Blac Papi as he was about to get on the highway to open up for Jeezy in Baltimore. Blac Papi and did an interview with Rick Dange where he spoke about all the moves he's been making since the last time they linked up for an interview, aswell as what he has coming up for the next weeks. Blac Papi is gearing up to release his debut project "Twelve" on Labor Day and he's been putting the final touches on the project everyday. Blac Papi talked about some of the features he will have on the project such as Shy Glizzy and Philthy Rich. Blac Papi will be having a release party on September 2nd at 312 Sports Lounge, and trust us, you don't want to miss it! Blac Papi also spoke about his up coming shows and about some upcoming charity work that he is doing to give back to the community. One of the events is on August 26th with Keyshia Cole at "Community Appreciation Day", located at Point Breeze & 22nd street. Later that night, Blac Papi will be making his way to Vegas for the Floyd Mayweather fight weekend. Before ending the interview, Blac Papi gave out some motivation words for all the viewers.
Checkout this exclusive interview with Blac Papi and also checkout his previous interview with HipHopSince1987!! And definitely make sure you stream/download Blac Papi's debut project "Twelve" on Labor Day from Apple Music, Tidal, Spotify, and all the major streaming outlets!!
This interview was conducted, shot, & edited by Rick Dange.
Follow Us on Instagram & Twitter at:
@BlacPapiOfficial/@BlacPapiOffic
@HipHopSince1987
@RickDange
© 2017, RickDange. All rights reserved.