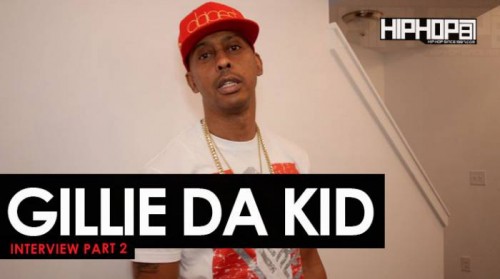 Philadelphia has a strong history when it comes to the music industry. Whenever rap music is mentioned, one name is certain to come up, Gillie Da Kid. Recently HipHopSince1987's own Rick Dange linked up with Gillie to discuss his new album "Million Dollars Worth of Game" as well as his new movie "Blood Brotha".
In part 2 of this 2-part interview, Gillie talks about his latest video titled "Up Up Again" which features a Philly artist named Sosah. He also talks about his independent label and having artists signed to him. Gillie makes it a point to stress the importance of building up their buzz before he goes heavy into promoting them. He goes in on artists that beg for promo versus actually earning it, and talks about how much better it feels to actually have people shout you out because they want to, instead of giving you a shoutout because you harassed the person. Before wrapping up the interview, Gillie talks about how much he likes the current music scene in Philadelphia and shouts out a few artists that he really sees grinding. Gillie also talks with Rick Dange about the recently released Tupac movie and some of the criticism around it.
Checkout part one of this exclusive interview with Gillie Da Kid NOW!
This interview was conducted, shot & edited by Rick Dange.
Follow Us on Twitter/Instagram at:
@GillieDaKid/@Gillie_Da_King
@HipHopSince1987
@RickDange
© 2017, RickDange. All rights reserved.