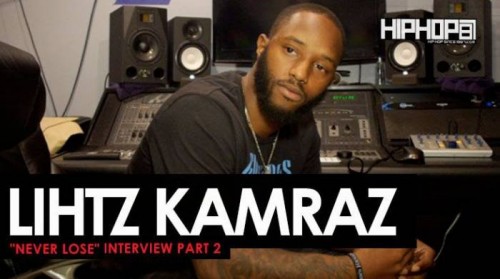 On Friday July 21st, Meek Mill's new album "Wins & Losses" dropped. The streets and the internet have been going crazy since the release, and it's fair to say that everyone is extremely happy with the project. "Wins & Losses" features a bunch of heavy hitter producers as well as an all star cast of artists. The album only has one unsigned artist on it, and that artist is Philly's own Lihtz Kamraz.
In part 2 of our exclusive 2-part interview with Lihtz Kamraz, HipHopSince1987's own Rick Dange talked with him about a variety of topics.
Lihtz Kamraz has been working hard to build his buzz in the streets and online. His last project "The Switch Up" showcased his variety of talents as an artist and had rave reviews. In this part of the interview, Lihtz Kamraz talked about how appreciative he was that Meek Mill put him on his new project. He also spoke about having a bunch of songs with Meek in the tuck. Lihtz Kamraz went on to explain exactly how Trey Songz ended up re-singing a hook that he wrote for an upcoming Meek Mill record, not wanting to over saturate the internet with his music, the endless grind that it takes to make it as an independent artist, and much more!
Checkout this exclusive interview NOW!! And make sure you purchase Meek Mill's new album "Wins and Losses" NOW if you haven't already!!
This interview was conducted, shot & edited by Rick Dange.
Follow Us on Twitter/Instagram at:
@LKA2/@LihtzKamraz
@HipHopSince1987
@RickDange
© 2017, RickDange. All rights reserved.