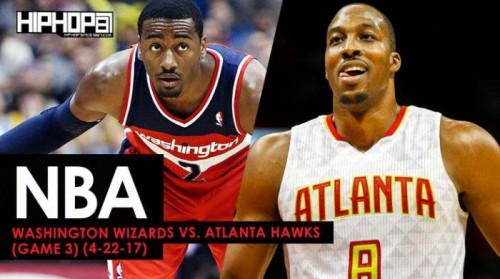 Game 3 of the first round East Conference matchup between the Atlanta Hawks and the Washington Wizards has shifted to the Highlight Factory in Atlanta.
Today at 5:30pm, John Wall and the Washington Wizards will come into Philips Arena with a (2-0) series lead against the Hawks looking to gain a series advantage getting the first road victory. The Atlanta Hawks will be looking to defend their home court and get back in the series with a much needed win.
John Wall has been impressive for the Wizards scoring over 30 points with over 10 assist in both his home games at the Verizon Center. Wall has controlled the flow and tempo of the first two games of this series. The Hawks will need to stop Washington's back court of John Wall and Bradley Beal from the perimeter today in order to get back in the series.
The Atlanta Hawks have led their fans on a roller coaster ride all season with their streaky play. The Hawks would win 6 and a row and then lose 5 in row. The Hawks rode that pattern all year which could be a good thing today. A offensive jump early from Dwight Howard and Tim Hardaway Jr. and the Hawks could get the momentum shift they need to rollout a few home victories and head back to Washington with the series tied (2-2). A victory today would start that off.
Game 3 of the Atlanta Hawks and Washington Wizard first round matchup with tip off at 5:30pm on TNT. As of now, neither team has reported any major lineup changes or injury news.  If your in Atlanta, you can catch the game on FM radio on 92.9 The Game. Stay tuned to HHS1987 for more NBA news. Follow @eldorado2452 on Twitter and Instagram for all your Atlanta Hawks, NBA and sports news. Game 4 takes place at Philips Arena on Monday 24th at 8pm.
Follow On Twitter/Instagram:
@ATLHawks
@WashWizards
@Eldorado2452
@HipHopSince1987
© 2017, Eldorado2452. All rights reserved.