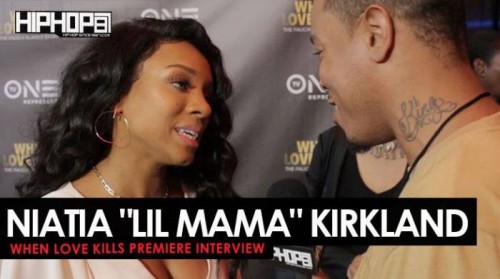 On Wednesday August 9th, TV One's new film "WHEN LOVE KILLS: THE FALICIA BLAKELY STORY" took place at the Regal AMC Theaters in Atlanta.
"When Love Kills": Based on a gripping true story, "When Love Kills" stars Lil Mama as Falicia Blakely, a young woman who gets caught up with the wrong man who leads her down a dangerous path of drugs, gun and more. At 16 and already a mother, Blakely is at odds with her mom ("Basketball Wives'" Tami Roman) and soon begins working at a strip club when she meets Dino ("House of Payne's" Lance Gross), a man who she thinks is the man of her dreams. Dino, however, is much more than he seems and soon pulls Falicia into a dangerous life of crime that changes everything she knows about herself.
While on the Red Carpet for TV One's film "When Love Kills", we caught up with one of the stars of the film, Niatia "Lil Mama" Kirkland. Niatia Kirkland spoke with us about her role as Falicia Blakely and how much research took place to put off the role. Discovering more about the World of Exotic Dancing, Niatia gave us some insight on breaking into the role of a stripper, performing her own stunts and she spoke on what message she hopes other women take from the film. With more roles and nee films in works, Niatia Kirkland informed us that this is a must see and to be on the look out for more of her on the big screen.
WHEN LOVE KILLS: THE FALICIA BLAKELY STORY premieres on TV One, on August 28th. The interview was conducted by Terrell Thomas. The interview was shot and edited by Danny Digital.
Follow On Twitter and Instagram:
@LilMama
@Eldorado2452
@HipHopSince1987
@DannyDigitall
© 2017, Eldorado2452. All rights reserved.