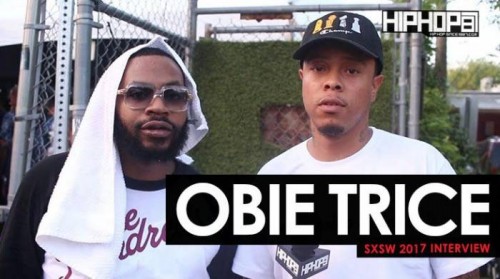 On Saturday March 18th, the Legends X House presented the Pimp C & Proof tribute show during SXSW 2017 in Austin, TX. During the event, HHS1987's Terrell Thomas (Eldorado) caught up with hip-hop artist Obie Trice to get some insight on his upcoming moves.
Obie Trice spoke to us on where he has been and what he has been working on. After things ended with Shady Records, Obie Trice moved on and created his own record label "Team Black Market". Preparing to release his third independent album 'The Fifth', Obie Trice spoke on his previous projects and what can be expected from his new material.
Obie Trice always spoke to us on the importance of SXSW. Stating this was his first time at the well known music festival, Obie Trice dropped some jewels on how the industry works and how SXSW prepares and molds artist for the hard work and grind of the game. Obie Trice concluded our interview by speaking on Detroit's current music scene and informing us of his upcoming plans for the remainder of 2017.
The interview was conducted by Terrell Thomas. The interview was shot and edited by Danny Digital.
Follow On Twitter/ Instagram:
@realobietrice
@Eldorado2452
@HipHopSince1987
@DannyDigitall
© 2017, Eldorado2452. All rights reserved.