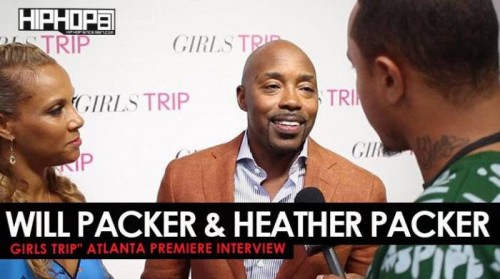 Recently, the Press Tour for Universal Pictures' upcoming film 'Girls Trip' made a stop in Atlanta for a special event. With 'Girls Trip' set to hit the big screen on Friday July 21st, Producer Will Packer and cast members, Regina Hall and Jada Pinkett Smith held a private advanced screening of the film at SCADshow in Downtown Atlanta and Terrell Thomas was on the scene.
'Girls Trip': When four lifelong friends—Regina Hall, Queen Latifah, Jada Pinkett Smith and Tiffany Haddish—travel to New Orleans for the annual Essence Festival, sisterhoods are rekindled, wild sides are rediscovered, and there's enough dancing, drinking, brawling and romancing to make the Big Easy blush.
While on the red carpet at the 'Girls Trip' exclusive screening event we caught up with the producer of the film Will Packer and his lovely wife Heather Packer. Will Packer spoke on creating the film, the filming and casting processes and what we can expect. Will Packer and his wife Heather Packer spoke on finding love at Essence Festival and their ultimate "Girls Trip".
The interview was conducted by Terrell Thomas. The interview was shot and edited by Danny Digital.
Follow on Twitter/ Instagram:
@willpowerpacker
@iamheatherhp
@girlstripmovie
@Eldorado2452
@HipHopSince1987
@DannyDigitall
© 2017, Eldorado2452. All rights reserved.