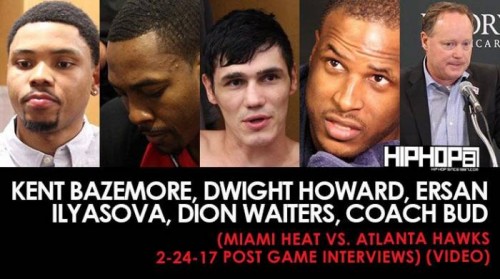 On Friday February 24th, the Atlanta Hawks fell to a record of (32-25) after losing to the (26-32) Miami Heat (108-90). Things were close after the first quarter but the Miami Heat out scored the Atlanta Hawks (38-25) in the second quarter and that changed the game completely.
For the Atlanta Hawks, all-star Paul Millsap finished the night with 21 points on (6-9) shooting from the field. Tim Hardaway Jr. was the Hawks second leading scorer finishing the game with 11 points. Malcolm Delaney was inserted into the starting lineup on Friday night as point guard Dennis Schroder was suspended after reporting back to Hawks camp late following the all-star break. Delaney finished the game with 5 points and 4 assist.
The Miami Heat players were aggressive all night and that was key to their victory. Heat guard Dion Waiters was on the attack all evening driving to lane scoring 14 points and dishing out 10 assist. Tyler Johnson was huge off the bench as he finished with 23 points on (9-11) shooting. Heat starting point guard Goran Dragic put up 17 points and 3 assist for the Heat.
Following the game, we caught up with Hawks players Kent Bazemore, Dwight Howard and Ersan Illyasova as well as Miami Heat guard Dion Waiters. The vibe and the message was pretty much the same in the Hawks locker room. Bazemore, Howard and Ilyasova all agreed that the Hawks must play with more urgency and energy. Coming off of his 14 point and 10 assist, Dion Waiters spoke on facing the Hawks, the Heat's recent winning streak and facing the Indiana Pacers.
The Miami Heat vs. Atlanta Hawks game was covered Terrell Thomas (Eldorado). The footage was shot and edited by Danny Digital. Stay tuned to HHS1987 for more NBA news. Follow @eldorado2452 on Twitter and Instagram for all your Atlanta Hawks, NBA and sports news.
Follow On Twitter/Instagram:
@ATLHawks
@MiamiHeat
@DwightHoward
@Bazemore24/ @24Baze
@Waiters3
@Eldorado2452
@HipHopSince1987
© 2017, Eldorado2452. All rights reserved.