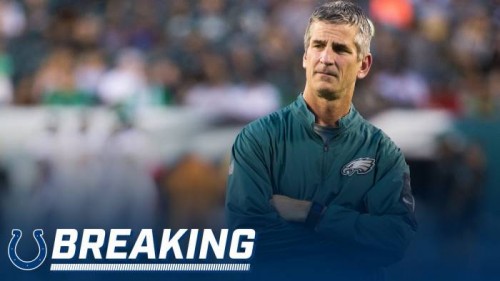 Once you win the Super Bowl, teams look to mirror your success to reach a similar height. After helping to lead the Philadelphia Eagles to capture their first ever Super Bowl title, former Eagles offensive coordinator Frank Reich is taking a new role in his career.
Former Eagles OC Frank Reich has agreed to a five year deal to be the new head coach of the Indianapolis Colts.
Via NFL.com:
Indy's decision wraps up a whirlwind coaching search for the Colts after New England Patriots offensive coordinator Josh McDaniels withdrew from an announced agreement to become the team's head coach on Tuesday.

"We are extremely excited to announce Frank Reich as head coach of the Indianapolis Colts," Coltsowner and CEO Jim Irsay said in a statement. "Frank has all the ingredients of a successful head coach: intelligence, innovation, character, organizational and leadership skills, and a commanding presence. He also has a stellar reputation, and his myriad of life experiences and the people he has worked with make him the perfect fit for us and our fans. I feel extremely fortunate and could not be more excited for Colts Nation and the future of our franchise."

Reich, 56, emerged as the favorite for the job after meeting with Colts general manager Chris Ballard on Friday. The Colts also interviewed New Orleans Saints assistant head coach/tight ends Dan Campbell and Buffalo Bills defensive coordinator Leslie Frazier.

With Reich leaving for Indy, Eagles coach Doug Pederson has two prominent vacancies in his offensive coaching staff. Quarterbacks coach John DeFilippo was hired as the Minnesota Vikings' offensive coordinator Friday.

Reich, who has more than a quarter-century of NFL experience as a player and coach, was hired by Pederson in 2016 to run his offense. He helped Carson Wentz establish himself as one of the league's premier rookies last season and helped the quarterback develop into a legitimate MVP candidate before he suffered a torn ACL and LCL in December.

Before his coaching stint in Philly, Reich served as the San Diego Chargers' offensive coordinator for two seasons after initially being hired as the team's quarterbacks coach in 2013. He worked as the Arizona Cardinals' wide receivers coach in 2012.

Reich's coaching career actually began with the Colts in 2006 when he was hired as an intern before being promoted to offensive assistant and later quarterbacks coach. Working with Peyton Manning, he helped the soon-to-be Hall of Famer pass for more than 9,200 combined yards over the 2009 and 2010 seasons. He worked as Indy's wide receivers coach in 2011 after Manning missed the season because of injury.
Good luck to Frank Reich in his new role. Stay tuned to HHS1987. Follow @eldorado2452 on Twitter and Instagram for all your sports news.
© 2018, Eldorado2452. All rights reserved.