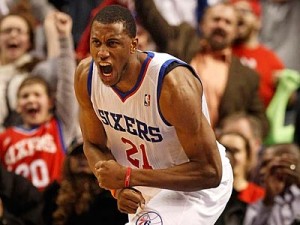 The Philadelphia 76ers came out in the first half against the Hawks flat and went into halftime down 47-39. They came out after halftime like a team possessed, outscoring the Atlanta Hawks 51-39 on the way to a 90-76 victory at the Wells Fargo Center in Philadelphia, Pa. Jrue Holiday scored 16 points, dished out 11 dimes and grabbed 6 rebounds, while Thaddeus Young scored 20 points in 23 minutes off of the bench to lead the Sixers usual balanced scoring attack.
The Sixers now at 11-4 are playing great basketball 15 games into the season, being second in the NBA in points allowed (86.7), 4th in opponent field goal percentage (41.3%), 1st in opponent 3pt field goal percentage (26.9 %), and they are 1st in the NBA at point differential, outscoring their opposition by 13.6 points per game. Yes they have beat up on the league's worst early in the season, but you can only play who's on your schedule at the time and in past seasons the Sixers would lose plenty of these games.
Tonight the Sixers travel to South Beach to face the Lebron James led Miami Heat(7:30 pm), who are 5-0 without Dwayne Wade in the lineup(sprained right ankle) and this will be a big test for the Sixers, who are going on the road to face the defending Eastern Conference champs on the road after playing the previous night in Philly. I'm not the type of person who believes in moral victories, but a well played game tonight against one of the NBA's elite would be a good look for the Sixers. Sixers fans are excited about the team's start, and a victory in Miami tonight could have the city buzzing.
© 2012, @BWyche. All rights reserved.