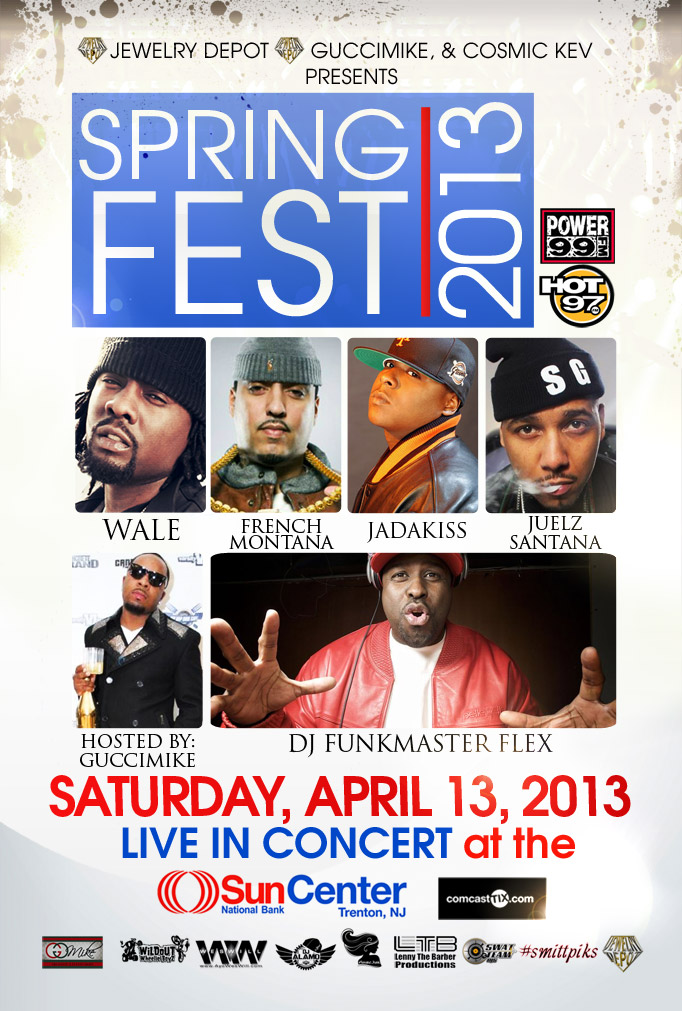 Jewelry Depot, Gucci Mike & DJ Cosmic Kev presents
Spring Fest 2013 featuring Wale, French Montana, Jadakiss & Juelz Santana hosted by Gucci Mike & Power 99's own DJ Cosmic Kev
Saturday April 13th at 7:30pm at the Sun Center
Wale is a Nigerian-American rapper from Washington D.C. In 2006 Wale was discovered by producer Mark Ronson and was signed to Allido Records in 2007. In 2008 Wale was signed to Interscope Records for $1.3 million as his debut album "Attention Defecit" released in 2009. In early 2011 Wale was signed to Rick Ross' Maybach Music Group and his second studio album "Ambition" was released. Wale won the Best Collaboration award for "Lotus Flower Bomb" at the BET Awards in 2012, as well as Best Club Banger for "No Hands" in 2011. He also won Best New Artist in 2011 for the Soul Train Music Awards.
French Montana is a rapper and singer of Moroccan descent and the founder & CEO of Cocaine City Records. In 2012 he signed a joint venture with Maybach Music Group and Bad Boy records. He's known for his collaboration with Rick Ross along with the Coke Boys. His debut album "Excuse my French" is set to be released March 12, 2013.
Jadakiss who is a member of The Lox who was signed to bad Boy Entertainment along with Sheek Louch and Styles P. This group especially Jadakiss was taken under The Notrious B.I.G.'s wing. In 1998 The Lox released "Money, Power & Respect", which went Platinum, they eventually left and signed to Ruff Ryder's Entertainment. In 2001 Jadakiss released his first debut album "Kiss Tha Game Goodbye" on the Ruff Ryder/Interscope label.  His second album "Kiss of Death" was released in 2004 and the single "Why" became one of his biggest hits. Late 2007 Jadakiss was signed to Jay-Z's Roc-A-Fella Records which he was trying to do for some time. Jada released his third album in 2009 "The Last Kiss" Just last year 2012 he released his mixtape "Consignment".
Juelz Santana is a rapper, producer, actor and member of the hip group The Diplomats. In 2003 Juelz released his debut album "From me to U" by Def Jam Records. His next album was released in 2005 "What the Game's Been Missing" which had the top ten single "There it Go". Juelz is currently working on his third album "Born to Lose, Built to Win" set to be released this year 2013.
Purchase Spring Fest 2013 Tickets Here
© 2013, Eldorado2452. All rights reserved.