Unless you've been living under a rock you've probably saw a video or heard of this new dance craze called the "Harlem Shake." There are dozens of YouTube videos which consists of someone with a mask dancing for about 15 seconds and then a room full of people joining in and just shaking their body. It actually reminds me of zombies dancing. The people dancing in the videos are predominantly white. This version of the Harlem Shake was started by five kids from Australia.
There have been debates and talk about the "Harlem Shake" all over social networks like Twitter and Facebook; a lot of people praising it and thinking that it's fun and some people criticizing it. The criticism doesn't stem from the dance itself but from the fact that the Harlem Shake isn't something new that a few kids from Australia decided to make up. The Harlem Shake is a dance that was made popular by artists G.Dep and P.Diddy in 2001 and it differs drastically from the "Harlem Shake" that these kids from Australia started.
Here is my problem with this "Harlem Shake" dance craze. The Harlem Shake is an actual dance that was created in Harlem during the 80s and made popular by hip-hop artists G.Dep and P.Diddy. The dance was extremely popular in hip-hop and the hip-hop culture in the early 2000s. There weren't any news segments about the original Harlem Shake. It's not the dance itself that is bothering me. I think some of the issue is that there is an original dance and America has taken something from "black culture" changed it to their mold and left the name the same and that is when it gets exposure. Sounds familiar? It should because it has happened over and over again. The most popular form obviously being with Jazz. Something that is originated in urban black culture and then taken a spun to fit a different culture and then getting popular doesn't sit well with me, especially when in all the news clips and videos there is barely any credit being given to the original. This isn't a black vs. white thing is any way shape or form. It's about preserving culture and equal attention being giving to things from black culture. YouTube was created in 2005 so I get the fact that there aren't as many videos of the original Harlem Shake as the newer version. But anyone who pays any attention to the hip-hop culture has heard of it and saw the original one, the popularity of the dance cannot be denied.
Below are a few tweets that I found both interesting and funny about the new "Harlem Shake"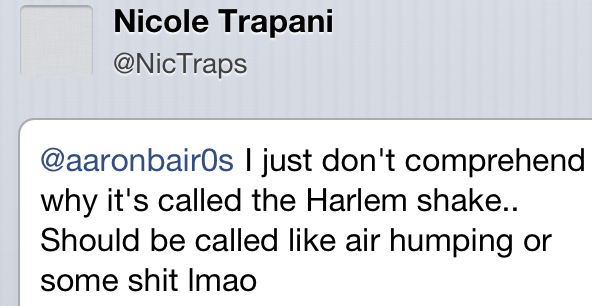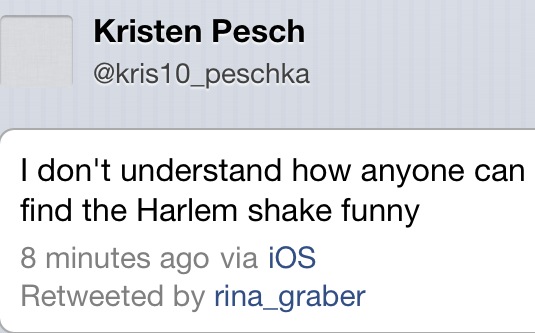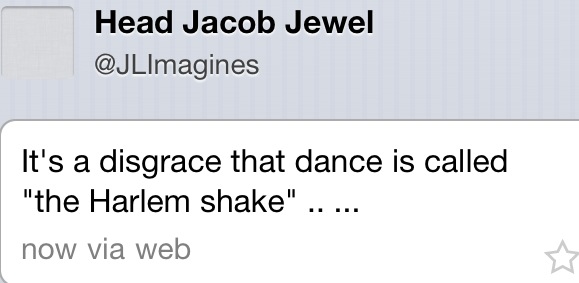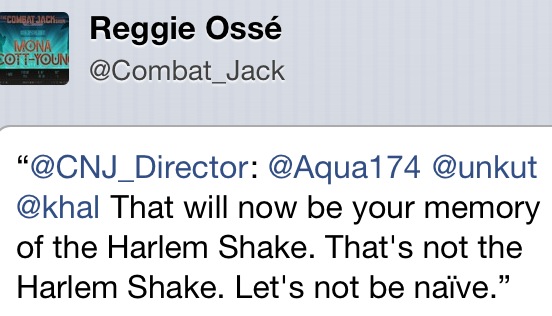 Here is the G.Dep and P.Diddy video that made the original Harlem Shake popular
Here is a video of the new Harlem Shake
Harlem residents aren't too happy about the new version either. Here is what they had to say about it.
I won't comment on whether I like the dance or not because that isn't important. But I feel like it should be called something else. If this is what the world calls the Harlem Shake then it makes the original one obsolete everywhere except in hip-hop culture.
How do you guys feel about it?
© 2013, @BWyche. All rights reserved.