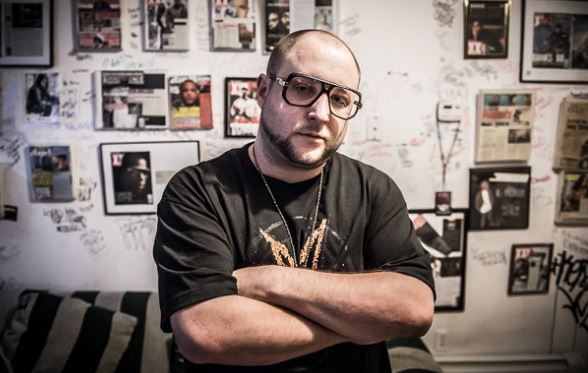 Check out what NYC native producer Statik Seletah had to say about his new What Goes Around LP, Joey Badass, his favorite producers, 50 Cent and more with All Hip Hop in the exclusive two part interview they released last week !
Words by Yohance Kyles:
There are a lot of interesting collaborations on What Goes Around. What is your process when you're trying to decide what artists you want to put together on a track?

It really just comes natural. I hear certain people on the beat, and we reach out. That's it. A lot of these guys are a phone call away. I basically have a list of who I want to work with when I start the album.

Sometimes things happen through chance. Sometimes I might bump into someone at the right time. It really depends. Every collaboration is different.

You've seemed to really embrace Joey Bada$$ and the entire Pro Era movement. How did that relationship first start?

We're literally together every day. I'm on the road with him, so in the last two years we've done over 300 shows. It came about early when he was working on 1999, and his manager Jonny Shipes reached out to me to do some scratches. He came through my crib, and we just started working.

It was just a natural vibe. Ever since then we've been rocking, literally every day. I'm very involved in his album. He's on my projects. He's like my little brother.

You worked with him on his album. So you have production on it?

Yeah, I mixed a lot of it too. I brought him ideas. I'm very, very involved with his album.

Who are some of your favorite producers out now?

Definitely Jake One. There's this kid named AntMan Wonder that's really dope. He's not really out there like that, but I think he's going to make a really big impact. He works with Justice League and myself. Whenever we need a sample replay he does it, but he also does his own beats.

You know my man Kirk Knight from Pro Era. I think !llmind gets me the most excited when I hear some new music. The kid Theophilus London, he's dope.

If you had to pick five quintessential Statik Selektah tracks, which ones would you choose?

Probably "For The City" by Jadakiss and M.O.P. that I did. "Stop, Look, Listen" which is featuring Q-Tip, Styles P, and Termanology. Definitely "Bird's Eye View" with Joey Bada$$, Raekwon, and Black Thought. I would say "Carry On" off the new album featuring Joey and Freddie Gibbs. And "So Close, So Far" with Bun B and Wale.

Have you done any production for other artists outside of What Goes Aroundand the Joey Bada$$ project that we can expect from you in the near future?

Action Bronson's album. The Underachievers' album. I'm on that, and that's kind of a different style beat for me. I've been really invested in Action and Joey's albums. A lot of it is on there.

My artist Ea$y Money is dropping real soon. I'm executive producing that. There's a lot of people on there – 9th Wonder. I definitely produced a lot of that. Me and Jared Evan are dropping another R&B project. I got a lot s**t coming out.

I just did a joint with Brother Ali. I heard 50 is writing a couple of joints. We'll see what happens with that.

For Street King Immortal?

I don't even know what it's for. I just know I've been dealing with his A&R, and they picked a couple [of beats]. He said he was writing.
READ FULL INTERVIEW | HERE.
© 2014, @quinelleholder. All rights reserved.