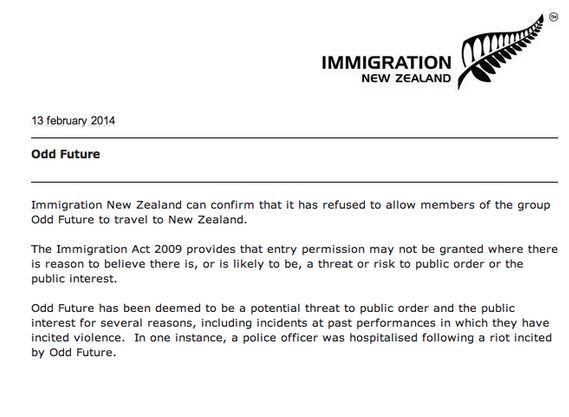 So apparently New Zealand feels like Odd Future is a potential threat to public order and has banned the collective from traveling to island country, go figure. Check out what Tyler, The Creator had to say about the situation below.
Source: https://twitter.com/fucktyler
DUDE SERIOUSLY IF I WASNT ABLE TO GO BACK TO WATERLOO OR FITZROY I WOULD ACTUALLY LOSE MY MIND. IM NOT ANGRY THO, BUT IF….THE IRONY IS THAT, WE CANT GET IN TO OPEN FOR EMINEM. HAHAHAHA, LIKE HE DIDNT MAKE 'KILL YOU' OR 'KIM' HAHAHAHAHAHAH. I LOVE NZ THO.
© 2014, @quinelleholder. All rights reserved.