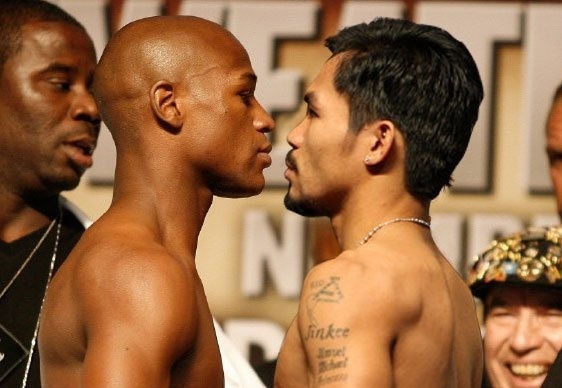 Pound-for-pound best fighter in the world Floyd Mayweather expressed his interest in fighting his chief rival, Manny Pacquiao in an interview with Showtime this past weekend.
Mayweather proposed that the two fight on May 2nd in Las Vegas. Mayweather claims that Pac's promoter Bob Arum is the hold up as the two have squabbling about the fight purse and the splits over the last several years.
Recently, Pacquiao responded to Mayweathers challenges with his own challenge.
Mayweather said he wanted to fight PAC, but he was hesitant to give him a 50/50 split because he felt, "he didn't deserve it."
Paquiao's response:
"Mayweather can get the amount he wants. As early as January this year, I challenged him to a charity fight. Until now, he has not agreed to it. So, money is not the issue in our fight," Pacquiao said on his official website.
"This fight is about legacy, this is about making the fans happy and, above all, this is for the good of boxing."
The two champions, boxing's top drawing cards, have danced around a possible clash for roughly five years, with disputes over purses and drug-testing preventing a match being made.
"We are ready. Let's make it happen. May 2. Mayweather versus Manny Pacquiao. Let's do it," the 37-year-old American, who fights at welterweight and light-middleweight, said.
As befits their familiar verbal sparring, Pacquiao promised he would deliver an exciting fight despite the supreme defensive skills so often displayed by Mayweather (47-0).
"He has reached a dead end. He has nowhere to run but to fight me," Pacquiao (57-5-2) said. "I will try my best to make this a thrilling and entertaining fight.
"But I doubt if he's gonna engage me in a slugfest. You all know his fighting style. Most of his previous fights, if not all, induced us to sleep."
The 35-year-old Pacquiao dominated Chris Algieri in November to retain his WBO welterweight title in his last bout, while Mayweather won a unanimous decision over Marcos Maidana to retain his twin WBC titles in September.
© 2014, Mehka King. All rights reserved.