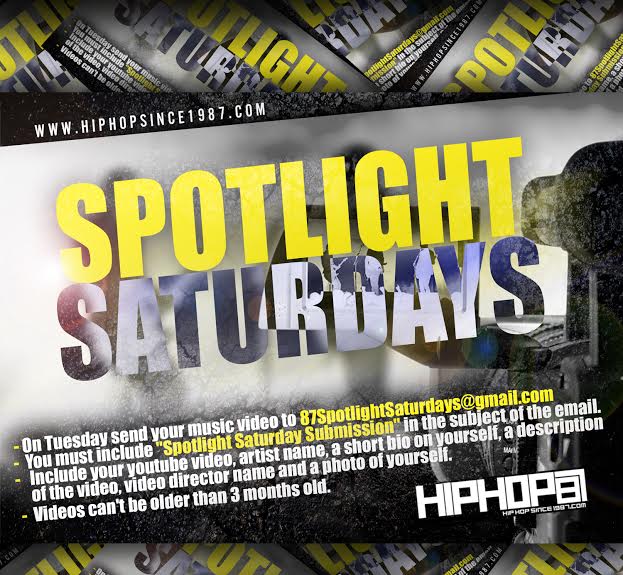 Each and every Saturday, HipHopSince1987.com will be bringing you Spotlight Saturday's. Spotlight Saturday's is for the up and coming artists who may get overlooked, yet they create visuals they want the world and HHS1987 team to see.
Spotlight Saturday will display the first verse and hook of four user submitted videos. The four video snippets will go up on HHS1987 website, Instagram, Twitter, Facebook, Tumblr, Youtube and more on Saturday for the viewers to select which video wins the spotlight competition. The poll will end on Monday night at 11:59pm eastern time. There will be a new winner each week. Submissions are one day only, so please only submit videos for SpotlightSaturday on HHS1987 on Tuesday of each week.
Submission guidelines for next week's Spotlight Saturday can be found below.
Polls end Monday at midnight.
The following guidelines for submissions applies to our Spotlight Saturday series. Please read them carefully before submitting your video:
– You must include "Spotlight Saturday Submission" in the subject of the email.
– Send the email to: 87SpotlightSaturdays@gmail.com
– Only send one link of your Youtube video. [Sending multiple videos in one submission WILL GET IGNORED]
– Include your artist name, a short bio on yourself, a description of the video, video director name, a photo of yourself, as well as your Twitter/ Instagram name.
– Only submit through the email.
– Please do not submit any videos OLDER THAN THREE MONTHS.
– Please DO NOT SUBMIT ANY FREESTYLE VIDEOS, only submit original records please.
© 2014, @BWyche. All rights reserved.