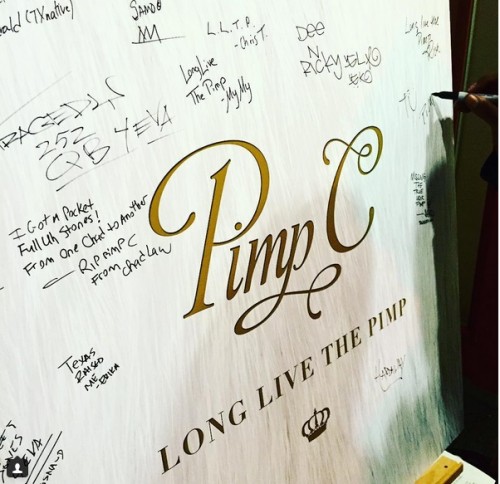 The other night in New York City, Mass Appeal Records held a private listening party for (the late & great) Pimp C and his "Long Live The Pimp" album. With the release date set for December 4th, we got a first listen at the 17-track album. Pimp C's (long-awaited) fourth studio album will be released through Mass Appeal Records and is now available for pre-order on iTunes. As shared in the listening event, the album is the first of all-new, original Pimp C material in over four years. The album features guest appearances from Nas, T.I., Juicy J, A$AP Rocky, Slim Thug, Ty Dolla $ign, David Banner, Bun B, and more.
Check out the tracklist below and the footage from the listening session below (via Instagram).
1) Long Live The Pimp
2) 3 Way Freak ft. Lil Wayne
3) Ain't Said Shit ft. Ty Dolla $ign & Devin The Dude
4) Wavybone ft. A$AP Rocky, Juicy J and Bun B
5) Spittin' Game (Interlude)
6) Trill ft. A'Doni, Slim Thug, ESG & Lil KeKe
7) Bitch Get Down ft. Bun B, 8 Ball & MJG
8) PayDay ft. Juicy J
9) Slab Music ft. Lil KeKe
10) True To The Game ft. David Banner
11) Triflin' Hoe (Interlude)
12) To Lose A Whore
13) Friends ft. Juicy J & Nas
14) Southside
15) Butta Cookies
16) Ccountry Thang (Outr)
17) Twerk Something ft. TI (iTunes exclusive)
Pimp C's Wife Speaking On "Friends" ft. Juicy J & Nas:
© 2015, MariaMyraine. All rights reserved.