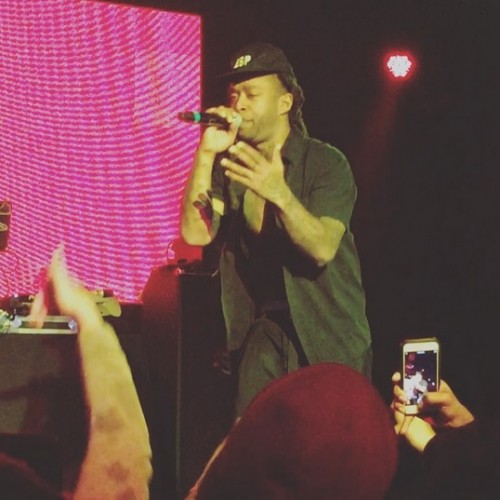 Last night in New York City, Ty Dolla $ign took over Highline Ballroom. And even saying that is an understatement. Before hitting the stage, New York native, Skizzy Mars performed an opening set for the already hyped up crowd. Mars' performed cuts from his latest EP, "The Red Balloon Project."
About a half hour later or so, Ty Dolla $ign finally emerged from backstage and opened with "Stand For" – which was the first single from his debut album. He then, of course, took a moment to rep his set as he yelled, "Taylor?" and the crowd responded, "Gang!" He then segued into "Dead Presidents," "Wood & Leather," "Toot it & Boot it," "You & Your Friends," as well as a medley of familiar records such as "Don't Tell'em" and "Post To Be." Soon after, Ty's first special guest came out. TeeCee4800 literally sprinted on stage when "Only Right" dropped. He also performed his DJ Mustard single, "Gettin 2 It." As if the energy in Highline wasn't on OD levels already, Makonnen came out for their "Molly" duet.
The surprises didn't stop there, however. After asking the crowd, "Who's a REAL New Yorker?," A$AP Ferg jolted on stage. The crowd was unbelievably HYPE as he performed "Shabba," with everybody singing along. When he transitioned into his hit single, "Work," Ferg & Ty both took turns jumping into the crowd. Needless to say, Highline Ballroom was LIT at this point
After shouting out Chinx and thanking the crowd, Ty continued to rock out with his song, "Paranoid," and then closed out with "Blase" – which he managed to performed three times in a row, without the crowd getting tired of it. At all.
The energy didn't dwindle one bit throughout the entire show and I speak for everyone who was in attendance when say, "Ty Dolla put on one helluva of a show."
Check out the IG clips below.
© 2015, MariaMyraine. All rights reserved.