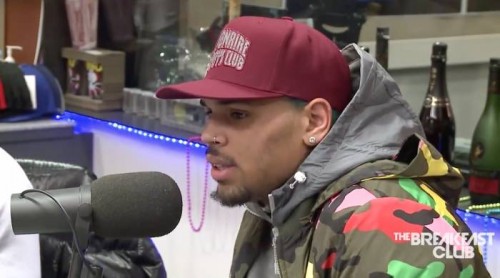 Chris Brown talks about getting the tour started on time despite him having to finishing his 1,000 hours of community service. He said they initially approved his tour, and for him to finishing the hours when he came back from tour. Chris Brown talks about remodeling bathrooms, painting rooms in detention centers and more for his community service hours.
Chris Brown talks about moving different these days. He also mentioned "God gives people certain paths" when Charlamagne asked him if he feels like troubles follows him. Chris talks about wanting to possibly doing a movie about his life. He added he is shooting a documentary on his current tour. When asked if he auditioned for Fox tv show Empire, Chris said "no" while adding he has yet to audition for any of his past movie roles.
Chris talks about his current relationship with Karrueche. They asked him about his recent falling out with Karrueche on Instagram that led to him saying Drake flew her out. He resisted any conversation about Drake by stating "I don't make money off talking about him." When asked about Rihanna and who could she possibly talk to after himself, Chris replied "who else she going to go to in this game? Some corny singing rapper?" They went on to ask Chris is he considering marriage and he replied he is still too young for that. He talks about marriage being distorted to this generation because the turnout is not working. The social media era is use to turning up, and don't have the leaders to embrace those values. He said he is not the leader to display marriage.
He also talked about a PR will have a problem with him. He mentions he will have to express himself first then maybe go back and delete it. He went into the comparison between him and Justin Bieber. Bieber being white and getting a second chance from the media, where he don't because of his skin color.
They ask Chris about The-Dream's most recent The Breakfast Club comments regarding R&B singers changing the game because they want to be rappers.
© 2015, @BWyche. All rights reserved.