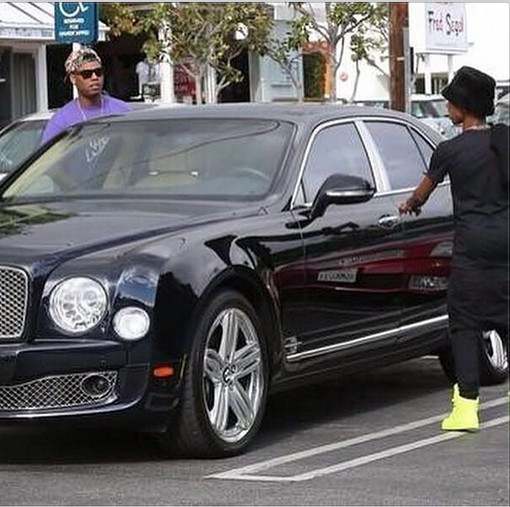 Dallas, Texas is known for many things but typically not rap music but Yung Nation rapper Fooly Faime is appears out to change that. As half of the hip-hop duo Yung Nation, Fooly Faime has been rapping and building a growing buzz throughout the state of Texas becoming regarded by many in the region as 'the next to blow' for some time – going back to his freshman year of high school. Last summer, Fooly Faime and his childhood friend Lil Twist took to the studio in Los Angeles and began collaborating on songs and discussing future projects.  After seeing Fooly Faime and dou-counterpart B. Reed that together are the popular group 'Yung Nation' building a fan base and infinitely growing buzz throughout Dallas, the state of Texas, and beyond , it caught the eye of Young Money's youngest artist Twist decided it was the perfect time reached out to his childhood friend.
At the time, Twist had just came up with an idea to start his own label and so he started New Money as a break off of Young Money. Twist is the President, CEO, all that and I was just the first artist to join under "New Money," Fooly Faime said to reports last year when asked about his new endeavors with Lil Twist. However Fooly Faime isn't worried only on the business side of music, he is also focused on getting out his dreams and sharing his unique struggles in life with the world through his music.  In this song, "Broke," included in this post showcases Fooly's passion. It's as if you can feel the pain and struggle like you walked into four minutes and some odd seconds in his shows as a child growing up.
Fooly Faime's feverish 16 and catchy lingo and delivery in he and Twist's record "Broke" which was released last week showcased in this article, is nothing new to those that have followed his rapping career. In September 2014, Lil Twist and Fooly Faime dropped "Good Credit" as the first New Money record ever released. The record was the first song Young Money released off of Lil Twist's highly anticipated mixtape with DJ Drama and Gangsta Grillz, The Golden Child 2, which was set to drop the following month but has since been pushed back. . Fooly Faime also has had multiple hit records building a cult-like fanbase with his duo counterpart B. Reed and Yung Nation with records like "Pimp," "Club Rock" and "Wurk Werk Don't Stop" to name a few. You can check out all of their latest releases including a recent collaboration with Jody Highroller himself (aka Riff-Raff) entitled "Molly All On My Chest" as well as a banging tracked dropped over the weekend called "Ain't No Question" which was produced By Honorable C-Note
2015 is set to be a high year for Fooly Faime. As he gears up for a change of pace in some work as a solo artist, he is also prepared to drop new music with Yung Nation in another project a lot of people are patiently waiting on entitled "Yung Nation Forever." Whispers say a solo project is already in the works with Fooly working on an EP entitled "Fooly Manuley" and plans to drop a leading record for the project very soon. Check out some of Fooly Faime's music below and stay tuned to HHS1987 for more from Yung Nation and Fooly Faime.
© 2015, Eldorado2452. All rights reserved.